'John Wick' Director Chad Stahelski Will Adapt Image Comics' 'Analog' To The Screen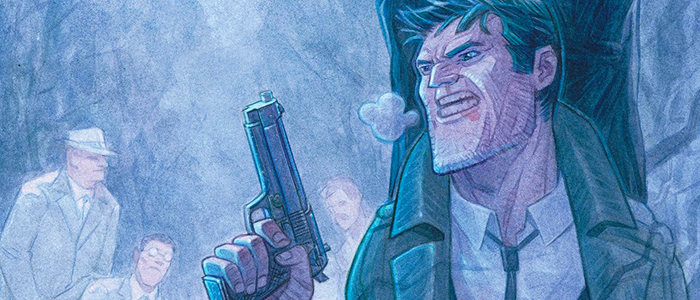 John Wick franchise filmmaker Chad Stahelski is sticking with Lionsgate for yet another action film. Stahelski will helm Analog, an adaptation of the Image Comics series of the same name. The story is set in the not-too-distant future, where the security of the internet has been totally destroyed. More on the Analog movie below.
Get ready for more neon and more ass-kicking: John Wick filmmaker Chad Stahelski has a new action movie lined-up at Lionsgate. The Hollywood Reporter reveals Stahelski and Ryan Condal, creator of USA series Colony, will team to adapt the comic Analog to the big screen. Stahelski will direct and Condal will write the script.
Analog is based on the Image Comics series from writer Gerry Duggan and artist David O'Sullivan. The story is set in the near-future, where internet security is a thing of the past following an event known as the "Great Doxxing". Here's the comic synopsis:
Five years from now: the security of the internet has been totally destroyed. Secrets are no longer sent over the web, they're entrusted to armed couriers called "Ledger Men," like human punching-bag Jack McGinnis. He's got a gun in one hand and a briefcase handcuffed to the other. Danger lurks around every corner, and Jack has to watch his back—because he had a part in the cyber attack that changed the world. Get in on the ground floor of this new ongoing series and thrill as we slam Jack's fist into the faces of spies, mercs, fascists, and eventually less punchable adversaries like a very grumpy artificial intelligence.
This concept will no-doubt give Stahelski a chance to stage big, stylish action sequences laden with special effects. The film's theme – the death of internet privacy – is also very timely, what with the recent revelations about Facebook. The timely aspect makes sense, since the comic the film is being adapted from is relatively new – the first issue arrived in April 2018.
I haven't read Analog, but /Film's Managing Editor Jacob Hall has, and he tells me it's excellent, saying:
"Analog is a young comic, but it already shows a strong sense of world-building and a command of tone, fluctuating between the violent and horrible and the whimsical and goofy with the turn of a page. Its near-future sci-fi premise is terrifying, but it uses it to create a deliberately old fashioned, two-fisted action tale. It's so much fun."
Per THR, Lionsgate won a bidding war for the property with the intention of keeping Stahelski and his production banner 87eleven – co-run by Atomic Blonde and Deadpool 2 director David Leitch – happy. Stahelski's John Wick series has turned into an unexpected hot commodity for Lionsgate, so it makes sense that they want to keep working with the filmmaker as long as possible.
Speaking of which, Stahelski is currently filming John Wick: Chapter 3, which will hit theaters May 17, 2019. No release date has been set yet for Analog.