The First 'Avengers 4' Plot Synopsis Vaguely Teases "Sacrifices"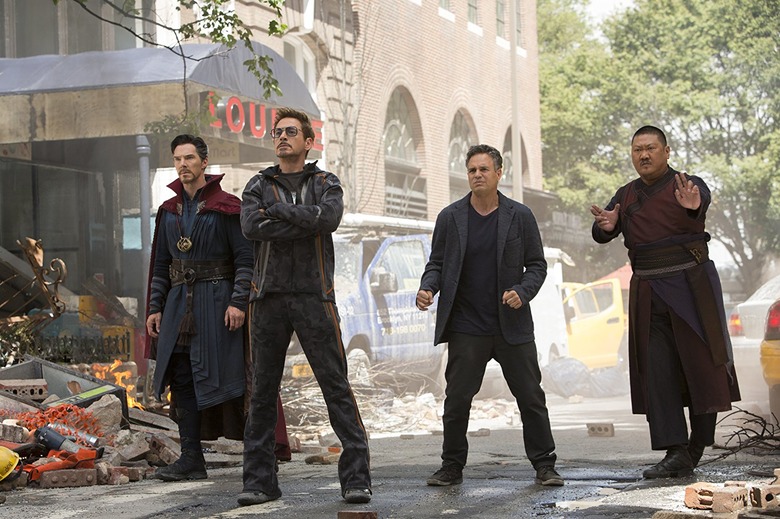 As we breathlessly reported on our theories about the title of the still-untitled Avengers 4, the plot synopsis for the Marvel Studios sequel has snuck right under our noses.
The first Avengers 4 synopsis has been released, which means it's time to parse the brief summary of the upcoming comic book movie for every tiny detail. Will it hold us over until we finally find out what this movie is actually called?
Spoilers for Avengers: Infinity War follow.
It figures that we would get an incredibly vague synopsis before we even find out what the title is for Avengers 4. But if Avengers: Infinity War directors Joe and Anthony Russo were worried that the mere mention of the Avengers 4 title would spoil the plot of the highly anticipated Marvel sequel, wouldn't a plot synopsis spoil it too? Not this one.
Released in a brand-new issue of License Global (via Comicbook.com), the first Avengers 4 plot synopsis is as vague as can be, cryptically teasing the aftermath of Infinity War.
Here is the tentative synopsis for Avengers 4:
"A culmination of 22 interconnected films the fourth installment of the Avengers saga will draw audiences to witness the turning point of this epic journey. Our beloved heroes will truly understand how fragile this reality is and the sacrifices that must be made to uphold it."
Sacrifices! Reality! What does it all mean? We can't be sure, though the mention of "sacrifices" does stick out. Theories abound that many of our beloved Avengers won't make it through the fourth Avengers film. Tony Stark and Steve Rogers are the two most likely candidates to pull off the ultimate sacrifice to save the galaxy from Thanos' destruction — Tony because his arc, from the universe-launching Iron Man in 2008 to the pivotal part he plays in Avengers: Infinity War, is logically heading toward a noble end. And Steve because, well, it's in his blood.
The fragility of this reality brings up some interesting theories as well — namely, that of time travel. While the Russo brothers have debunked this theory, I wouldn't be surprised if that was a case of classic Marvel misdirection. But a "fragile reality" could point to the Reality Stone in Thanos' gauntlet, or that the lasting consequences of The Dusting don't last as long we would expect.
For those skeptical about the source of the synopsis, it appears to be legitimate. License Global is the publication that broke the first synopsis for Avengers: Infinity War, and tradeshow and merchandise magazines often get a first peek at Marvel details.
Avengers: Infinity War is currently playing in theaters. The Marvel Cinematic Universe will reach its 22-film climax with Avengers 4 on May 3, 2019.