Here Is The Trevor Noah Cameo In 'Black Panther' That You Might Have Missed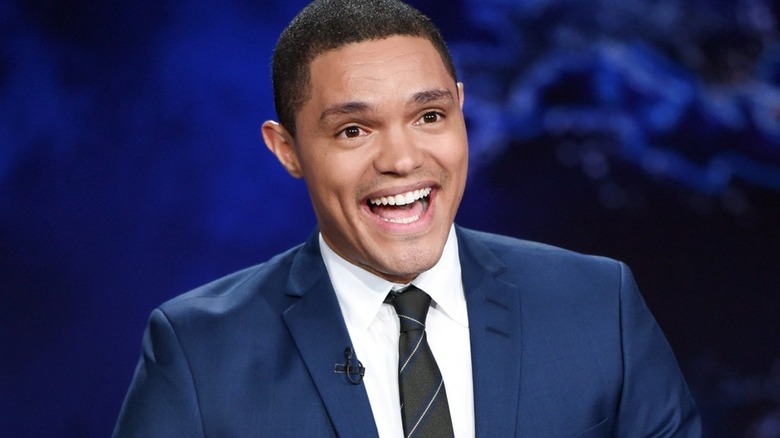 It's unexpected cameo season! Even better than Christmas is the time of year when all the news stories come out about how Daniel Craig played a Stormtrooper, or how Joseph Gordon-Levitt's Star Wars: The Last Jedi cameo was a Beastie Boys reference. Oh, and then there was Matt Damon in Thor: Ragnarok, and that one special cameo in Deadpool 2 that has everyone talking. But there was one blockbuster cameo that you may have missed when this movie first hit theaters: Trevor Noah. A Trevor Noah Black Panther cameo, to be exact.
The Daily Show host apparently played a part in Black Panther, Marvel's latest outing to hit Blu-ray and digital release. Find out more about this blink-and-you'll-miss-it cameo below.Black Panther first opened in theaters in February, and has been out on Blu-ray for nearly a week. So why has it taken this long to notice a major cameo from the host of The Daily Show?
That's because it was nearly impossible to notice. Unless you were this one eagle-eared Redditor (via io9) who noticed Noah's name in the credits. There, Trevor Noah is playing a character named Griot. Wait — who?
You wouldn't be blamed if that name doesn't ring a bell. "Griot" isn't the name of a Wakandan human — or a mispelling of "Groot" — but the name of the A.I. of the Shuri-invented Wakandan ship piloted by Martin Freeman's Everett Ross during the film's final battle. Yes, that's Noah's dulcet tones guiding Ross through a tense airborne battle as Killmonger's allies try to break into Shuri's lab.
Amazingly, Noah hasn't said a peep about this cameo for the past five months, despite heaping effusive praise on the film in a monologue for his show. The Daily Show host, who hails from Johannesburg in South Africa, was over the moon over the Marvel film's use of Xhosa, an official language of his hometown.
"It was extra special for me because the people speak Xhosa in the movie," he said. "There were subtitles, and I was like, I don't need your subtitles! I don't need your subtitles! This is just for me right now! Nobody else listen! This reminds me of my mom."
Considering the excitement that Noah has over just the language in the film, it's a miracle he didn't spill the beans. The Marvel publicists would be proud.
Black Panther is currently available to buy on Blu-ray and Digital HD.