'Scarface' Returns To Theaters For 35th Anniversary Celebration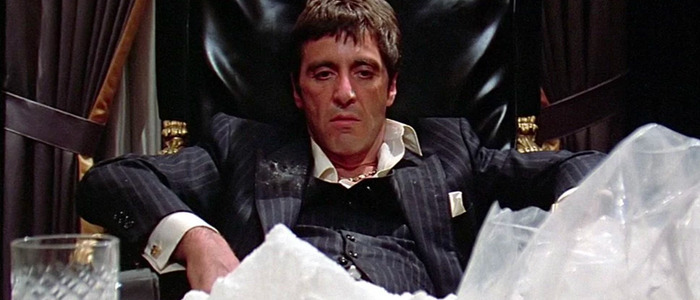 Brian De Palma's ultra-stylish, ultra-violent crime epic Scarface is returning to theaters for its 35th anniversary. Along with the film, the Tribeca Film Festival retrospective event featuring De Palma and actors Al Pacino, Michelle Pfeiffer, and Steven Bauer will be screened as well.Scarface, the film that inspired countless hip-hop songs as well as posters in dorm rooms, is turning 35 this December. To celebrate the anniversary of De Palma's crime film, Universal Pictures, Screenvision Media, and Tribeca Film Festival, presented by AT&T, have announced the return of Scarface to movie theaters nationwide.
In addition to the film itself, the Tribeca Film Festival post-screening conversation, where De Palma,Pacino, Pfeiffer (who was asked some pretty dumb questions during the Q&A), and Bauer reunited to discuss the film and its legacy, will be screened. The screenings will take place at select theaters in major cites nationwide, like New York, Los Angeles, Chicago, Philadelphia, and Dallas on June 10, 11, and 13.
Scarface is a loose remake of the 1932 film of the same name, and tracks the deadly rise and fall of cocaine kingpin Tony Montana (Al Pacino). Tony comes to Miami from Cuba, and slowly amasses bloody empire run on mountains and mountains of cocaine. Here's the official synopsis.
After getting a green card in exchange for assassinating a Cuban government official, Tony Montana (Al Pacino) stakes a claim on the drug trade in Miami. Viciously murdering anyone who stands in his way, Tony eventually becomes the biggest drug lord in the state, controlling nearly all the cocaine t
hat comes through Miami. But increased pressure from the police, wars with Colombian drug cartels and his own drug-fueled paranoia serve to fuel the flames of his eventual downfall.
Scarface was considered a bit of a misfire when it arrived in '83, but its true legacy would come much later. More and more people discovered the film on home video, turning it into a cult classic. Is it De Palma's best movie? Nope. In fact, it's aged rather badly. But it's still a fascinating film, featuring a great, memorable performance from Pacino and a glimpse into a world of 1980s excess.
"Scarface is a timeless film that has influenced pop culture in so many ways over the last 35 years. We're thrilled to partner with Universal Pictures and Tribeca Film Festival to bring it back to the big screen in celebration of its anniversary," said Darryl Schaffer, executive vice president of operations and exhibitor relations, Screenvision Media. "The Tribeca Film Festival talk was an important commemoration of the film. We're excited to extend it to the big screen and provide fans a behind-the-scenes insight into what production was like in the 1980s."