Exclusive 'Annihilation' Behind-The-Scenes Video Reveals How That Horrifying Bear-Creature Came To Be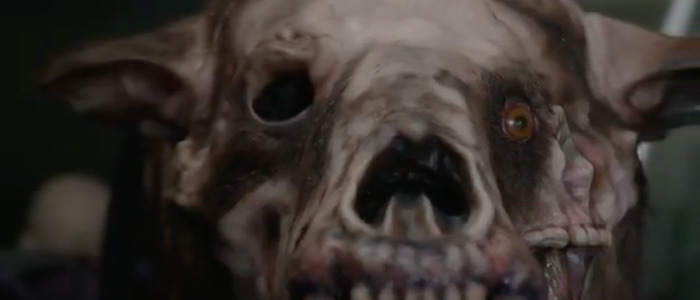 One of the most memorable scenes in Alex Garland's amazing sci-fi mind-trip Annihilation involves a genuinely terrifying mutated bear-creature. In an exclusive Annihilation behind the scenes video below, learn how the filmmakers created the monster bear from the film.
Annihilation Behind the Scenes Video
I loved Annihilation. In fact, as of now, it's one of my favorite films of the year. It's a strange, beautiful, and often terrifying journey into the unknown, and director Alex Garland handles it all deftly. One of the film's most memorable, and horrifying, scenes involves a sequence in which the film's main characters – played by Natalie Portman, Gina Rodriguez, Tessa Thompson and Jennifer Jason Leigh – are attacked by a hideously mutated monster bear that speaks with a human voice. It's nightmarish, and one of the most genuinely unnerving things I've seen in a recent movie.
The behind the scenes video above examines how the production went about creating that mutant bear, and it provides some great insight into how much work into the scene. A mix of CGI and practical effects were employed to make the scene as memorable as possible. It's worth noting that this is only an excerpt from a much longer behind the scenes video, that covers the scene from nearly ever possible angle. Garland and company took five days to film this one sequence, and this featurette shows us how it was done. You can see the rest of the clip on both the Digital and Blu-ray release of the film.
A full list of special features is below.
Part 1 – SOUTHERN REACH
Refractions - See how director Alex Garland created the tone, textures and color palettes for the various film environments on set.
For Those That Follow - Listen to the cast's perspective on their roles and learn why they found the story so intriguing.
Part 2 – AREA X
Shimmer - See how filmmakers transformed real set locations to create the world of Annihilation.
Vanished into Havoc - Check out all the action as cast and crew walk you through the mind-blowing stunts and special effects.
Part 3 – TO THE LIGHTHOUSE
Unfathomable Mind - Learn why the visual effects are integral to achieving director Alex Garland's overall vision for Annihilation.
The Last Phase - Listen to the cast and crew share their fondest memories from filming Annihilation.
Annihilation debuts on Digital May 22 & on Blu-ray/DVD May 29, 2018.
Biologist and former soldier Lena (Academy Award® winner* Natalie Portman) is shocked when her missing husband (Oscar Isaac) comes home near death from a top-secret mission into The Shimmer, a mysterious quarantine zone no one has ever returned from. Now, Lena and her elite team must enter a beautiful, deadly world of mutated landscapes and creatures, to discover how to stop the growing phenomenon that threatens all life on Earth. The film also stars Jennifer Jason Leigh, Gina Rodriguez, Tessa Thompson, and Tuva Novotny.