'Black Water' Trailer: JCVD And Dolph Lundgren Team Up In An 'Under Siege' Knock-Off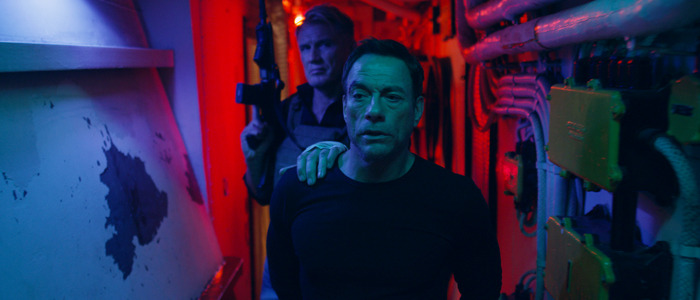 Jean-Claude Van Damme and Dolph Lundgren were action movie staples in the 1980s and 1990s, and the two have often shared the screen before – but they've always appeared as adversaries. But this year, the duo is finally going to be up on the same side in a new action thriller called Black Water. Anyone who grew up watching these guys blast their way through films like Universal Soldier and The Expendables 2 will probably perk up at the notion of watching these two truly team up for the first time.
Black Water Trailer
This looks like a mash-up between 1992's Under Siege, which starred Steven Seagal as an ex-Navy SEAL cook aboard a battleship, and 2013's Escape Plan, which starred Sylvester Stallone and Arnold Schwarzenegger as two convicts who team up to break out of a maximum security prison. (It's also somewhat fitting that this feels a little like a knock off, since Van Damme actually starred in a movie called Knock Off in 1998.)
Van Damme and Lundgren are unquestionably action superstars, but they never achieved the level of fame of guys like Stallone and Schwarzenegger. From the outside looking in, though, it seems like they've always been just fine with their position in the action movie niche. They first co-starred together in Universal Soldier in the early 1990s, reprised those roles in Universal Soldier: Regeneration and the absolutely out-of-its mind Universal Soldier: Day of Reckoning, and most recently appeared together in the dumb-but-still-fun The Expendables 2. And though Black Water feels awfully familiar, it also looks like the two actors are having a lot of fun as they finally get to crack wise and let loose with each other instead of having to face each other down.
Black Water is the directorial debut of Pasha Patriki, a cinematographer who's shot a bunch of direct-to-video action shlock (nothing wrong with that!) and has now graduated to the director's chair.
Action-movie icons Jean-Claude Van Damme and Dolph Lundgren deliver a double shot of adrenaline-fueled excitement in this heart-pounding undersea thriller. After a failed mission, deep-cover operative Wheeler (Van Damme) is imprisoned in a CIA 

black

 site on a submarine. The CIA agents will to go to any lengths to get information from Wheeler—but nothing can prepare them for the storm of violence that erupts when he joins forces with a fellow prisoner (Lundgren) as deadly as he is mysterious.
Black Water will be available on Dish Network on May 25, 2018, and it comes to select theaters and On Demand platforms on June 29, 2018.