Barack And Michelle Obama Officially Strike Multi-Year Deal With Netflix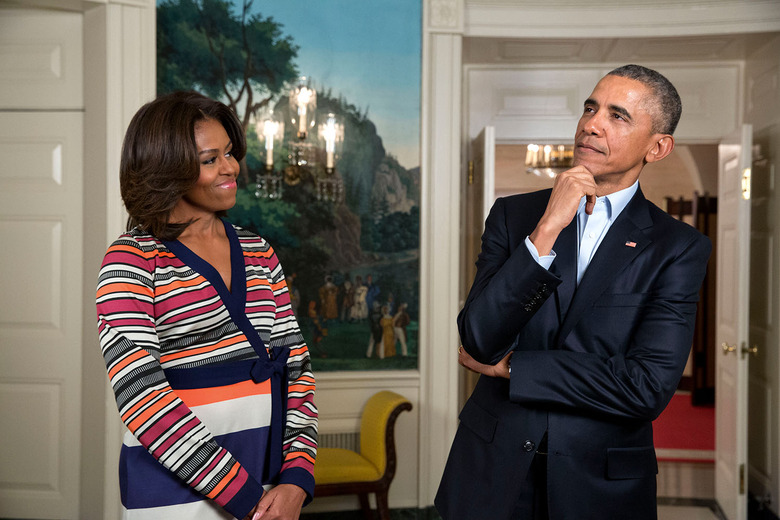 When things seem low, Netflix goes high. President Barack Obama and Michelle Obama have officially entered a multi-year "storytelling partnership" with the streaming service to produce multiple movies and TV shows. This Netflix deal potentially includes scripted series, unscripted series, docu-series, documentaries, and feature films.
Yes, you heard that right: scripted series. Buddy-comedy starring President Obama and Vice President Biden, here we come!
Netflix announced that it has entered a multi-year deal with the Obamas to produce "a diverse mix of content" that will "discover and highlight stories of people who make a difference in their communities and strive to change the world for the better," Netflix Chief Content Officer Ted Sarandos said.
"We are incredibly proud they have chosen to make Netflix the home for their formidable storytelling abilities," Sarandos added.
For this multi-year production deal, the Obamas have established Higher Ground Productions, under which they will produce content for Netflix.
Reports of this monumental deal have been swirling around since March of this year, when it was reported that the former president and first lady were in talks with Netflix to produce a series of TV shows for Netflix. Now, it seems that deal has expanded to include not just television but documentaries and feature films. And the mention of "scripted series" is particularly juicy, since we all expected the political figures to mainly focus on docuseries or talk show-oriented content that brings awareness to issues like climate change. A scripted series could range from a political drama to a feel-good sitcom. The possibilities are endless.
Of course, it's unlikely the Obamas will produce a feel-good sitcom starring themselves. As President Obama said in his statement accompanying the Netflix announcement, he and Michelle Obama hope to use this deal to curate filmmakers and stories that will promote "empathy and understanding." He added:
"One of the simple joys of our time in public service was getting to meet so many fascinating people from all walks of life, and to help them share their experiences with a wider audience. That's why Michelle and I are so excited to partner with Netflix – we hope to cultivate and curate the talented, inspiring, creative voices who are able to promote greater empathy and understanding between peoples, and help them share their stories with the entire world."
It's likely that the couple will use this platform to support and launch talented filmmakers and producers who create series and movies that spark discussion about important issues.
"Barack and I have always believed in the power of storytelling to inspire us, to make us think differently about the world around us, and to help us open our minds and hearts to others," Michelle Obama added. "Netflix's unparalleled service is a natural fit for the kinds of stories we want to share, and we look forward to starting this exciting new partnership."
I know what would open my mind and heart. A series that brings to life the Obama and Biden meme. No? Okay, I guess I'll take inspirational content and stories from Barack and Michelle Obama. At least we know that the ratings will be through the roof.