'The Mule': Bradley Cooper And Clint Eastwood Could Reunite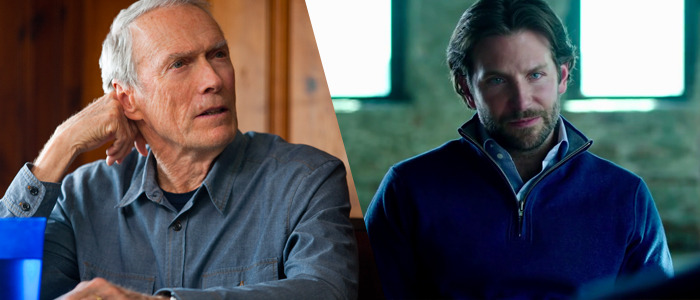 Clint Eastwood hasn't acted in a movie since his turn in the 2012 baseball drama Trouble with the Curve, but it appears that the 87-year-old is getting back in front of the camera again soon. He's set to direct and star in a drug thriller called The Mule, and his American Sniper star Bradley Cooper is in talks to share the screen with him.
Variety reports that Cooper is in talks to star with Eastwood in The Mule, which sadly is not a remake of the 2014 film about a guy who swallows condoms filled with heroin to transport it out of Thailand, gets detained by Australian cops, and then tries to avoid using the bathroom for days so as to not get caught. While Eastwood starring in a remake of that would be pretty amazing, this seems a bit more straightforward. Here's the description of the plot:
The movie is based on a 2014 New York Times Magazine feature by Sam Dolnick and follows Earl Stone (Eastwood), a man in his 80s who is broke, alone, and facing foreclosure of his business when he is offered a job that simply requires him to drive—easy enough but, unbeknownst to Earl, he's just signed on as a drug courier for a Mexican cartel, and also hit the radar of hard-charging DEA agent Colin Bates.
If Cooper actually comes on board, he'll play the DEA agent tracking Eastwood's character. Variety says the actor has been attached to this project for a long time because of how well he got along with Eastwood when making American Sniper, which went on to become the highest-grossing movie of 2014.
Eastwood has spent the past decade or so primarily making movies about heroes, like the Tom Hanks-starring Sully and this year's The 15:17 to Paris, a thriller about the men who famously stopped a 2015 train attack which actually starred the guys who averted the crisis in real life. I'm looking forward to him getting away from that kind of storytelling and tackling the tale of a sad old man who gets swept up in something far beyond his control.
Meanwhile, Bradley Cooper just made his directorial debut on a new remake of A Star is Born, in which he stars opposite Lady Gaga. That film debuts this October, and Cooper is also set to direct a biopic about famed composer Leonard Bernstein – even though True Detective director Cary Fukunaga is also making a Bernstein biopic starring Jake Gyllenhaal.