'Roseanne' Co-Showrunner Whitney Cummings Has Left The Series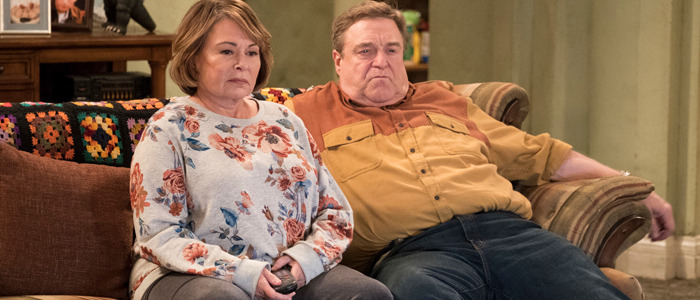 ABC's revival of Roseanne is one of the biggest network comedies on television right now, but despite its popularity, one of its showrunners and head writers, comedian Whitney Cummings, has just stepped down and walked away from the series.
According to Variety, Cummings will not be returning for the second season of the revival series (which will be the eleventh season of the show overall). Bruce Helford, Cummings' co-showrunner on Roseanne, revealed the news in a conference call to reporters earlier this morning, and Cummings herself took to Twitter to explain the reasons for her departure:
Cummings created and starred in her own comedy series Whitney on NBC, and co-created the CBS show 2 Broke Girls. She cites "work commitments" and her tour schedule – she's also a stand-up comic – as the reasons she won't return for more Roseanne.
I'm not saying those reasons for leaving aren't completely legitimate on their own, but I also have to wonder if the show's divisive reception may have been a contributing factor here. Both Roseanne and actor/producer Roseanne Barr have become a lightning rod for controversy over the past few months, with the show leaning into her character's support for Donald Trump. Meanwhile, the actual Roseanne Barr has received a ton of flak for embracing and sharing alt-right conspiracy theories, and her Twitter antics threatened to overshadow the show entirely.
But to the surprise of no one, American audiences largely don't care about their TV stars having troubling political ideologies. Roseanne is averaging a 3.6 rating and is aiming to finish this season as TV's highest-rated program in the coveted 18-49 demographic. The show launched a million thinkpieces, but people are still tuning in.
Deadline reports Wanda Sykes, Norm McDonald, Bruce Rasmussen, Dave Caplan, Sid Youngers, and Betsy Borns will all return as writers under sole showrunner Bruce Helford, and they'll be joined by new hires Ali Liebegott (Transparent), Mitch and Jana Hunter (The Middle), Ted Jessup (Family Guy), Liz Astrof and Emily Wilson (The King of Queens), and stand-up comedian Jena Friedman.
For more about Roseanne and how it's different from its original incarnation, I'd highly recommend listening to a recent episode of the New York Times' Still Processing podcast entitled "We Watch Whiteness." Hosts Wesley Morris and Jenna Wortham unpack what the show used to represent, how Roseanne's persona has evolved over the years, and much more. It's a great podcast, but that episode in particular is definitely worth checking out if you're even remotely interested in Roseanne.