Chris Pratt's 'Cowboy Ninja Viking' Movie Is Still Happening, Gets Two New Writers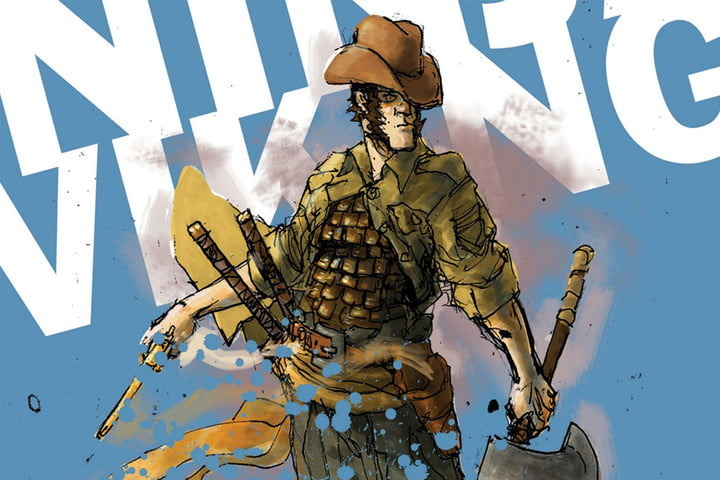 Chris Pratt may be the star of two of the biggest franchises today, but his pet project Cowboy Ninja Viking just can't seem to get off the ground. But the comic book adaptation has been steadily galloping (Sneaking? Sailing?) toward the big screen, with Michelle MacLaren announced as the director earlier this year. Now, two new writers have joined the team to tackle the script of this long-gestating movie.
Universal has tapped Dan Mazeau, who penned Wrath of the Titans, and Ryan Engle, who worked on the Liam Neeson action movies The Commuter and Non-Stop as well as Dwayne Johnson's Rampage, to take a crack at the script for Cowboy Ninja Viking, according to The Hollywood Reporter.
They will be the second duo to tackle the script after Craig Mazin (The Hangover II) and Eric Pearson (Thor: Ragnarok). The original draft was penned by Zombieland writers Paul Wernick and Rhett Reese.
Pratt is set to star as an assassin with multiple personality disorder who is part of a counter-intelligence unit full of agents known as Triplets. But as the deadliest Triplet — who can manifest into the personas of a cowboy, a ninja, and a Viking — he is soon called to take down his own cohorts.
Here's the official synopsis of the comic:
It started with Dr. Sebastian Ghislain: rogue psychotherapist/covert op/DJ. Tasked with creating a counter-intelligence unit, he turned to those long thought useless to society...patients with Multiple Personality Disorder. These agents became known simply as Triplets. Misguided? Yeah. Impractical? Sure. But did it work? Absolutely not. Now someone has located each Triplet and created a band of ridiculously disturbed, but highly effective assassins. Our only hope? A Triplet known as Cowboy Ninja Viking!
It's been a long road to production for Cowboy Ninja Viking. The script has been bouncing around Hollywood since 2010, but when Pratt signed on in 2014, it seemed like a sure sign that the film would move forward. Still the film was met with delays and rewrites. Now under MacLaren's leadership, it seems the comic book adaptation could make its intended 2019 release date.