Lin-Manuel Miranda's 'In The Heights' Movie Lands At Warner Bros. After HUGE Bidding War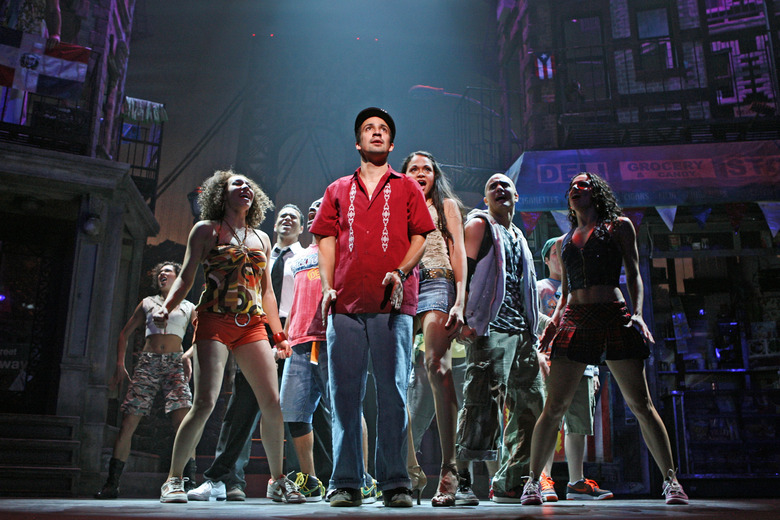 In the Heights has finally found a home.
After a troubled road to the big screen, the adaptation of Lin-Manuel Miranda's Tony Award-winning musical has landed at Warner Bros. The studio won the rights to the In the Heights movie adaptation after a fierce bidding war following the implosion of the project's former studio, The Weinstein Company.
Warner Bros. is flying high this week, winning the rights to the In the Heights movie adaptation after a bidding war with several studios including Fox, Paramount, Sony, Disney, Netflix and Apple, according to Deadline. Warner Bros. ended closing the $50 million deal,
It's a triumphant victory for the film after Miranda and In the Heights book writer Quiara Alegría Hudes extricated the film rights from The Weinstein Company following the revelations of former executive Harvey Weinstein's history of sexual assault. And it seems like the film has found a worthy home — Warner Bros. also rescued the best movie of the year so far, Paddington 2, from The Weinstein Company shortly after the revelations surfaced.
In the Heights was Miranda's debut musical, created before he became wildly successful following 2015's smash hit, Hamilton. But In the Heights, which tells the intersecting stories of young people in the largely Hispanic-American neighborhood of Washington Heights, was nothing to sneeze at either. Opening to high acclaim on Broadway in 2008, the musical earned multiple awards, including the Tony for Best Musical. Miranda wrote and starred in the musical as Usnavi, a bodega owner in Washington Heights who dreams of leaving for the Dominican Republic and getting the girl.In the Heights has had a long and arduous journey to the big screen. Universal Pictures first began bouncing around the idea of a movie adaptation in 2011, with High School Musical director Kenny Ortega at the helm and Miranda set to star in the role that he had originated on stage. But the plans fell through and the film languished in development hell — though Miranda did promise in 2012 that talks about reviving In the Heights had resumed.
It wasn't until the global success of Hamilton came about in 2015 that interest in In the Heights picked up again. The Weinstein Company won the rights in 2016, but soon fell in disarray after the Weinstein assault allegations in 2017. But a month ago, Miranda and Hudes successfully extricated the rights from the Weinstein Company, and plans for the film are back on track.
Miranda is producing, and Crazy Rich Asians director John Chu will helm the film. There is no word on the cast, though I wouldn't be surprised if the film took cues from the 2018 In the Heights stage revival, which stars Hamilton alum Anthony Ramos, as well as former Disney star Vanessa Hudgens.
No release date has yet been set.