Watch The CW Fall 2018 Trailers: 'Charmed' And 'All American'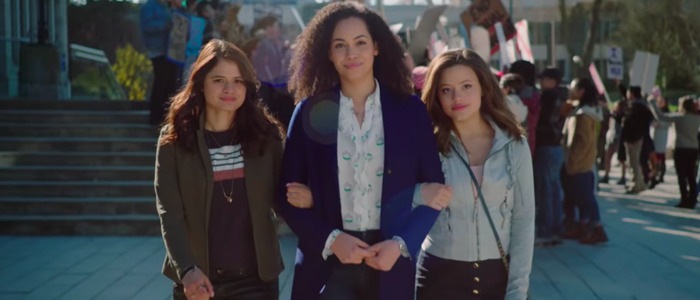 The CW Fall 2018 TV slate has been revealed, and the network has released a couple of new trailers and synopses for their upcoming shows. Check out trailers for the Charmed reboot, a new show based on the high school drama of a real NFL football player with All American, and a description of an upcoming spin-off of The Vampire Diaries and The Originals called Legacies.
Charmed
I never watched the original Charmed when it aired on The WB in the late '90s, but the show ran for eight seasons and was a huge hit for the fledgling network at the time. Now, twelve years after the original show's cancellation, Jane the Virgin showrunner Jennie Snyder Urman has created a new take with actresses of Hispanic descent, and it looks...well, just like a show you'd expect to see on The CW! And that's not a dig, either. This network just has a specific style, and this is very much in line with that.
Cast: Melonie Diaz, Sarah Jeffery, Madeleine Mantock, Rupert Evans, Ser Darius Blaine, Charlie Gillespie, and Ellen Tamaki
Synopsis: Stronger together. That's what Marisol tells her daughters, firebrand social justice warrior Melanie Mel Vera, and her sister, fun-loving Maggie, about their family. Mel is a graduate student in the women's studies department her mother heads at Hilltowne University; Maggie is a freshman considering rushing a sorority (to Mel's amused dismay) and going on again with her on-again off-again boyfriend Brian. But then, a shocking tragedy shatters their world and threatens their sibling bond: Marisol dies in a horrifying accident. Or was it?
Three months later, we find Mel unable to accept the official explanation of their mother's death, while Maggie accuses her of being morbidly obsessed. And then, another huge shock shows up at their front door: they have an older sister, brilliant geneticist Macy, whom their mother kept a secret all these years! Macy is new in town and doesn't know a soul (except for Galvin, the cute fellow scientist who's been showing her around). Macy is eager to connect with Mel and Maggie, but Mel can't handle another shock, and shuts her out. With the emotions of all three sisters running high, each of the girls suddenly exhibit impossible new abilities: Mel can freeze time, Maggie starts hearing others' thoughts, and Macy has telekinetic powers.
But don't worry, there's a perfectly reasonable explanation – or so says Harry Greenwood (who as far as they know is the officious new chair of the women's studies department), when he gathers the three sisters together to reveal they're actually powerful witches, as was their mother. And he's not really a professor, he's their Whitelighter, a witch's advisor and guide! Not only that, but Mel was right: their mother's death was no accident – she was murdered by unknown dark forces. It's a lot to take in, but ultimately the sisters accept their new destiny as The Charmed Ones, and their new duty to protect humankind from the demons that walk among us – one of whom killed their mother. With the Power of Three, they are stronger together – even if they have no idea what they're really up against.
Here's a first-look scene from the new show:
All American
In the vein of Friday Night Lights comes All American, a show that on the surface is apparently about football but actually seems to be about much more than that. It's based on the real life of NFL player Spencer Paysinger, and looks like it has the potential to be an interesting exploration of race, class, privilege, and more. This one hails from executive producer Greg Berlanti, who really seems like one of the laziest guys in Hollywood. (I'm kidding, of course – he has like a million shows on the air right now.)
Cast: Daniel Ezra, Taye Diggs, Samantha Logan, Bre-Z, Greta Onieogou, Monet Mazur, Michael Evans Behling, Cody Christian and Karimah Westbrook
Synopsis: Spencer James is a rising high school football player and A student at South Crenshaw High. Compton is the place he calls home. But when Beverly High School's football coach Billy Baker recruits him to join his team in Beverly Hills, Spencer's mother, Grace, and his best friend, Coop, convince Spencer it's an opportunity he has to seize. Now Spencer must navigate two worlds, the south side neighborhood that he knows and the affluent Beverly Hills world that has offered him an opportunity for something bigger. When Spencer is forced to move in with Billy and his family to protect his transfer permit to Beverly, Billy's son, Jordan (the team's starting quarterback), is less than thrilled to be sharing his father's attention – or the team spotlight – with Spencer. While Spencer struggles to find his footing, he makes an unlikely friend in Jordan's sister, Olivia, who is dealing with her own demons. He also quickly develops a crush on his classmate, Layla, something her boyfriend, Asher, quickly realizes – so, he sets out to drive Spencer off the football team and out of Beverly Hills for good.
Here's a first-look scene from the show:
Legacies
Again, I haven't seen any of The Vampire Diaries or The Originals, so a new spin-off called Legacies isn't exactly in my wheelhouse. But as someone who watched all ten seasons of Smallville, I totally understand getting sucked into an expansive TV world like this one. There's no trailer for this one yet, but we'll be sure to add it here as soon as it appears online.
Cast: Danielle Rose Russell, Jenny Boyd, Kaylee Bryant, Quincy Fouse and Aria Shaghasemi, with Matt Davis
Synopsis: For the last decade, the iconic heroes and villains of The Vampire Diaries and The Originals have captivated audiences worldwide. They left an enduring legacy of love and family in their wake, which continues in LEGACIES, a thrilling new drama that tells the story of the next generation of supernatural beings at The Salvatore School for the Young and Gifted. It's here that Klaus Mikaelson's daughter, 17-year-old Hope Mikaelson; Alaric Saltzman's twins, Lizzie and Josie Saltzman; and other young adults – including political scion MG and the mysterious Landon Kirby – come of age in the most unconventional way possible, nurtured to be their best selves, in spite of their worst impulses. Will these young witches, vampires and werewolves become the heroes they want to be – or the villains they were born to be? As they fight to protect their secret, their town of Mystic Falls and eventually the world, they will have to rely on ancient folklore and tales to learn how to battle their far-reaching enemies.
The CW Fall 2018 TV Schedule
Here's the new schedule for The CW's shows when new programming (in bold) arrives this fall:
SUNDAY
8:00-9:00 PM SUPERGIRL (New Night)
9:00-10:00 PM CHARMED
MONDAY
8:00-9:00 PM DC'S LEGENDS OF TOMORROW
9:00-10:00 PM ARROW (New Night)
TUESDAY
8:00-9:00 PM THE FLASH
9:00-10:00 PM BLACK LIGHTNING
WEDNESDAY
8:00-9:00 PM RIVERDALE
9:00-10:00 PM ALL AMERICAN
THURSDAY
8:00-9:00 PM SUPERNATURAL
9:00-10:00 PM LEGACIES
FRIDAY
8:00-9:00 PM DYNASTY
9:00-10:00 PM CRAZY EX-GIRLFRIEND