Batwoman Is Coming To CW's Arrowverse – Could Batman Be Next?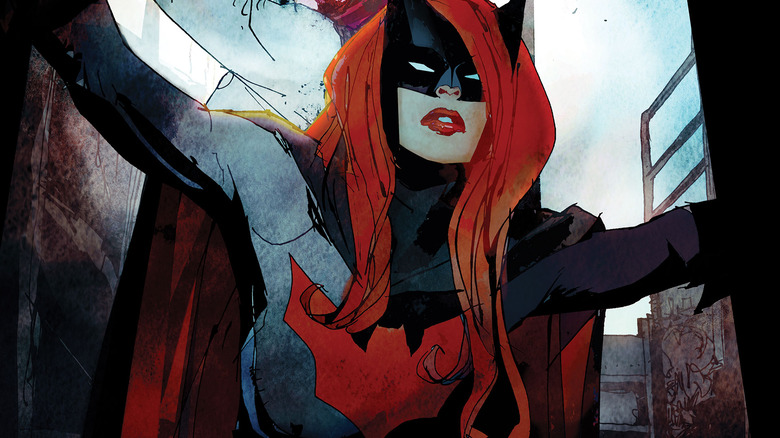 Batwoman is making her small-screen debut. A Batwoman CW appearance will take place in the next Arrowverse crossover event between the CW DC superhero shows Arrow, The Flash, Legends of Tomorrow, and Supergirl. Fingers crossed it's another musical.
Ever since Arrow and The Flash had their first highly anticipated crossover two-parter in 2014, the Arrowverse — sometimes called the Berlanti-verse after its pioneering producer Greg Berlanti — has grown exponentially to encompass four shows, three web series, and dozens of superheroes and villains. But it's tiptoed around one of DC Comics' biggest properties: Batman.
Gotham City and its Caped Crusader has been frequently alluded to in Arrow and The Flash, but never for more than a throwaway reference to get fans in a tizzy over possible cameos that would never pan out. Until now.
One of Batman's many allies, Batwoman, will be coming to the Arrowverse, effectively adding "the city of Gotham into the Arrowverse," CW boss Mark Pedowitz said at the network's upfronts presentation on Thursday. "This will be another full-throttled, action-packed event."
Arrow star Stephen Amell announced the news during the networks upfront presentation (via ComingSoon.Net):
"We're incredibly excited to announce that we'll be doing another crossover event this fall on The CW, and we'll be introducing a new character. For the very first time appearing, we'll be fighting alongside Batwoman, which is terrific. The crossover is going to make it to air in December. I need to leave right now and start filming it."
There have been four crossover events in the Arrowverse thus far, each bigger than the last. The last crossover took place over the course of all four CW shows, and featured the characters attending Barry and Iris' wedding before it gets unceremoniously crashed by Nazis from an alternate dimension. Yeah, it's as buckwild as it sounds, which is the biggest appeal of the crossover events — they're silly, loud, and fully embrace their comic book weirdness. So don't expect an ultra-serious Kate Kane to appear in the Arrowverse crossover.
Though Batwoman is a title that has been held by several characters since 1956, the most definitive iteration of the character didn't appear until 2006. After the universe-resetting Infinite Crisis, Batwoman was reimagined as a lesbian heiress named Kate Kane who is inspired by Batman to use her own wealth and resources to fight crime in Gotham. She is one of the few "Bat" vigilantes with few connections to Bruce Wayne and even butts head with Batman when they cross paths. She acts separately from Batman and his horde of orphans, and has become a fan-favorite character with several of her own solo titles.
This makes Kate Kane ripe for an introduction in the CW — she remains fairly removed from Batman while still donning the familiar symbol. Like Supergirl with Superman, she can have adventures of her own while barely brushing shoulders with Batman. But this still potentially opens the doors for a Batman appearance. Superman (Tyler Hoechlin) already made his Arrowverse debut in Supergirl (albeit in the show's alternate universe), so his BFF Batman could be next. The question is whether Gotham will exist in Arrow and The Flash's Earth-1 or if the show will invent another alternate universe for Gotham and a potential spin-off could reside.
In a TV universe where Gorilla Grodd traveled back in time to kill a young Barack Obama, anything is possible.