'Sense8' Finale Trailer: One Last Mission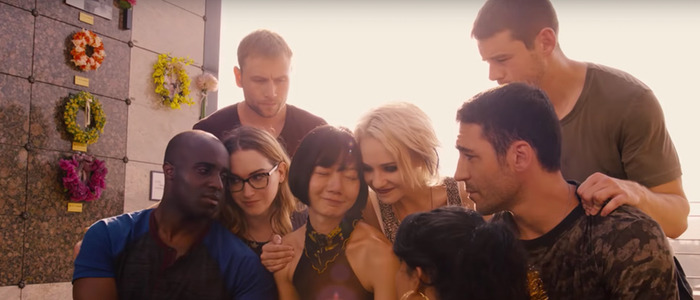 Netflix has made good on their word to give the cancelled Sense8 a proper send-off with a series finale film. You can now watch the Sense8 finale trailer below.
Sense8 Finale Trailer
There was a time when Netflix almost never cancelled their original programming. So when the streaming service pulled the plug on Sense8, created by The Wachowskis and J. Michael Straczynski, it was a bit of a shock. The series may not have been the giant hit Netflix had hopped for, but it had a devoted following that wholly embraced the show's message.
After Sense8 was cancelled following two seasons, vocal fans took to the internet begging for the show to be saved. And Netflix listened. Sort of. The streaming giant didn't give Sense8 a full third season, but they did agree to run a two hour finale that will (hopefully) wrap the story up in a way that will satisfy fans.
Sense8 follows eight "sensates" – Capheus (Toby Onwumere), Kala (Tina Desai), Lito (Miguel Angel Silvestre), Nomi (Jamie Clayton), Riley (Tuppence Middleton) , Sun (Donna Bae), Will (Brian J. Smith) and Wolfgang (Max Riemelt) – unrelated people drawn together by a psychic bond. Season two found the characters on the run from Whispers (Terrence Mann), and forced to question their very identity while trying to "find a way to live with, understand and protect one another against all odds."
When the two-hour finale was announced, Lana Wachowski took to social media to release a letter thanking fans. "In this world it is easy to believe that you cannot make a difference," she wrote. "That when a government or an institution or corporation makes a decision, there is something irrevocable about the decision; that love is always less important than the bottom line. But here is a gift from the fans of this show that I will carry forever in my heart: while it is often true those decisions are irreversible, it is not always true. Improbably, unforeseeably, your love has brought Sense8 back to life." You can read the full letter below.
Death doesn't let you say goodbye. 2 hour finale episode in the works. Tell your cluster. pic.twitter.com/GHZgGuHwS0

— Sense8 (@sense8) June 29, 2017
The Sense8 finale arrives on Netflix on June 8, 2018.
Eight strangers around the globe find themselves connected — first by a violent vision, then by their shared ability to connect with one another's thoughts and actions, and finally by the urgent need to find out what happened and why. Their need to know goes beyond simple curiosity — as they pursu

e answers, a mysterious organization hunts them down, intent on destroying them.