'Sorry To Bother You' Red Band Trailer: Destiny Is Calling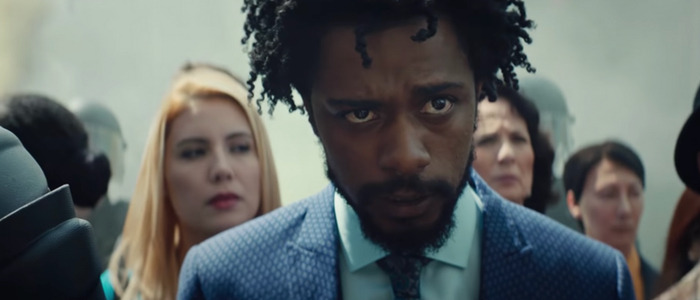 If you weren't already hyped for Sorry To Bother You, this red band trailer should do the trick. Boots Riley's Sundance hit looks like one of the year's best films. Watch the Sorry To Bother You red band trailer below.
Sorry To Bother You Red Band Trailer
Well, this looks great. I'm so excited for Sorry To Bother You that I should probably take a step back and take a chill pill or two. But goddamn, does this movie look fantastic. And early reviews pretty much confirm that all the hype is warranted. Our own Ben Pearson got to experience Sorry To Both You at Sundance, and he had nothing but great things to say about the film in his review:
Writer/director Boots Riley has dropped a bomb on Sundance with Sorry To Bother You, a searing social satire and the most eccentric directorial debut in years. Mark it down now: no other movie in 2018 will come close to this one in terms of balancing far-out weirdness with a compelling, meaningful story. Riley has plenty to say (maybe a little too much, in fact), and his outstanding cast of Lakeith Stanfield, Tessa Thompson, Armie Hammer, and more ground this startling, mind-bending story that's overflowing with WTF moments.
Ben isn't alone. Sorry To Bother You is currently sitting at 92% on Rotten Tomatoes, and this red band trailer is loaded with effusive pull quotes – one of which is even snorted like cocaine. That's how you sell your movie, folks.
When it came to crafting the unconventional storytelling of this film, director Boots Riley said: "It was out of wanting to have people engage with the film in a different way and to not be able to guess exactly what's going to happen, just like in life, so to keep people on their toes...there are things that are done in this film that you're not quote-unquote supposed to do." Riley also added:
"I just hate films where I can guess what's happening. For some people that's comforting, "I know what this movie is, and within these parameters the filmmaker and the writer are going to play with what happens in between these two plot points that I know are going to happen" and some people like that. And there is something to be said for confining restraints in art. It can help you—haikus—they have a rule and you know how it's going to be. Think about when they talk about brain development in kids. If you are trying to teach a kid something you try and teach them the same way each time. "Hey, we are going to look at these cards." Even the first time they may say, "oh hey, that card is interesting," and you keep giving them different information on the same cards, the mind is going to shut off; it's not going to make the chemical reactions it needs to make. You have to switch it up to make the brain realize it has to pay attention in a different way and that's kind of the approach I took. It's like if you realize that you don't know what's going to happen then you are engaged with the movie in a different way."
In addition to the red band trailer above, you can also head on over to the "Official Sorry To Bother You Paraphernalia Store", where you can purchase items inspired by the movie, including those memorable earrings Tessa Thompson wears.
Sorry To Bother You, starring Lakeith Stanfield, Tessa Thompson, Armie Hammer, Terry Crews, Steven Yeun, Omari Hardwick, Jermaine Fowler, and Danny Glover, opens in limited release July 6, 2018 before going wide on July 13, 2018.
In an alternate present-day version of Oakland, telemarketer Cassius Green discovers a magical key to professional success – which propels him into a macabre universe.