'The Vampire Chronicles' Loses Bryan Fuller, Who Can't Keep A Job Apparently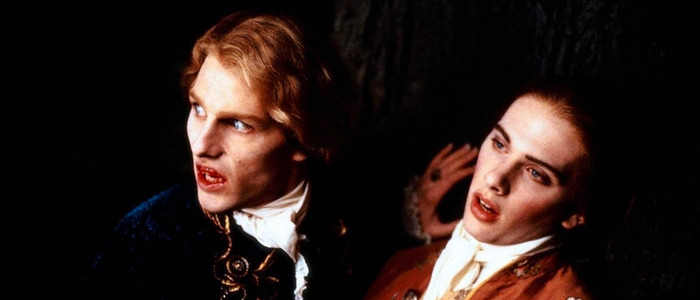 Bryan Fuller, wyd? Everybody loves Bryan Fuller, but the man apparently can't hold down a job. Fuller has just jumped ship on yet another show: The Vampire Chronicles TV series.
Bryan Fuller officially joined the Vampire Chronicles TV series back in January, but his time with the show was very short-lived. Nerdist has confirmed Fuller lasted only a month with The Vampire Chronicles, and parted ways with the series in February. At this point, we really shouldn't be surprised. Fuller has made something of a habit of departing projects.
In the last year or so, Fuller has left Star Trek: Discovery, American Gods and Apple's upcoming reboot of Amazing Stories. Why, exactly, does this keep happening? Fuller is an incredible artist, and the shows he has gotten off the ground – Pushing Daises, Hannibal, the first season of American Gods, and so on – have all turned out wonderfully. Yet Fuller appears to be someone who doesn't want to compromise his vision. On one hand, that's something worth celebrating – Fuller takes his work seriously. On another hand, it's a bit frustrating, because I want Fuller to be involved with all these shows.
The Vampire Chronicles in particular felt like a perfect match for Fuller. His Hannibal series felt like as much an adaptation of Anne Rice's Vampire Chronicles as it did Thomas Harris' Hannibal Lecter books. Fuller's take on the relationship between lead characters Hannibal Lecter and Will Graham seemed to be directly inspired by the relationship between Vampire Chronicles characters Lestat de Lioncourt and Louis de Pointe du Lac.The Vampire Chronicles TV series is still happening, though. Author Anne Rice's son Christopher Rice is serving as executive producer, and recently tweeted out this image of the title page of the pilot episode.
— Christopher Rice/ C. Travis Rice (@chrisricewriter) May 2, 2018
That tile – "Wolf Killer" – is lifted directly from the second book in the Vampire Chronicles series, The Vampire Lestat. In that book, we first meet Lestat de Lioncourt before he became a vampire, and there's a sequence in which the still-human Lestat kills a pack of wolves that have been terrorizing his local village. The fact that this is pilot episode seems to indicate the show is going to be told from Lestat's point-of-view.
The Vampire Chronicles kicked-off with Anne Rice's 1976 novel Interview with the Vampire. There, Rice introduced readers to her tragic, poetic vampires who look upon their vampirism as both a gift and a curse. While Lestat was something of an antagonist in Interview With the Vampire, it was clear he was the character Rice was most interested in, and the writer proceeded to make Lestat the main character of subsequent books The Vampire Lestat, Queen of the Damned, The Tale of the Body Thief, and Memnoch the Devil.Interview With the Vampire was previously adapted into a film in 1994 by Neil Jordan. The film was a hit, and the plan was to adapt the rest of Rice's books as well – but the franchise stalled-out. It would be years before another Vampire Chronicles book made it to the big screen, and the result – 2002's Queen of the Damned – was a major disappointment.
I'm still excited to see a television take on The Vampire Chronicles, but I'd be much more excited if Bryan Fuller were still involved. Alas, I guess it wasn't meant to be. I'm sure Fuller will become attached to another TV series soon. And then he'll leave that as well.