'Jurassic World: Fallen Kingdom' TV Spot Unleashes New Footage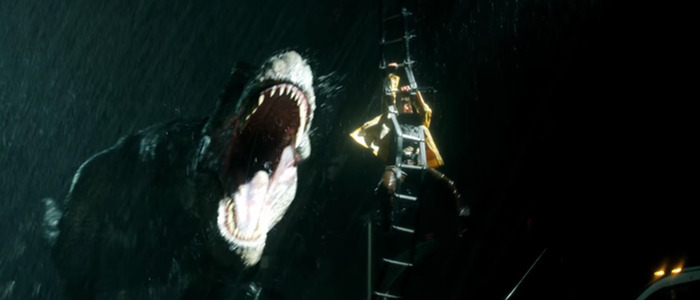 A new Jurassic World: Fallen Kingdom TV spot just roared its way online, bringing with it some new footage of the Jurassic Park/Jurassic World sequel. You can watch the new TV spot, plus a fairly amusing new College Humor video featuring Chris Pratt and Bryce Dallas Howard, below.
Fallen Kingdom TV Spot
Avengers: Infinity War is out. Deadpool 2 arrives this week, and Solo takes over theaters next week. That makes the next big summer movie after those Jurassic World: Fallen Kingdom, so get ready for the marketing for that film to increase. Case in point: this new Fallen Kingdom TV spot. While most of the stuff here we've seen already, there's also some new footage as well, including a call-back to Aliens at the beginning.
Trailers for Fallen Kingdom have run hot and cold with me. Some of the footage looks amazing, full of visual flair that includes shadowy, gothic and nightmarish imagery. At the same time, the film's plot – which essentially abandons the island setting completely for something vastly different – seems just a little too strange. Strange isn't a bad thing, and for a franchise like this to survive, it's good to shake things up. Still, I've yet to be fully sold on this. I'll still be seeing it, though.
When the island's dormant volcano begins roaring to life, Owen (Chris Pratt) and Claire (Bryce Dallas Howard) mount a campaign to rescue the remaining dinosaurs from this extinction-level event. Owen is driven to find Blue, his lead raptor who's still missing in the wild, and Claire has grown a respect for these creatures she now makes her mission. Arriving on the unstable island as lava begins raining down, their expedition uncovers a conspiracy that could return our entire planet to a perilous order not seen since prehistoric times.
My Dinosaur is a Service Animal
In addition to the new TV spot, here's a mostly-amusing College Humor video in which Fallen Kingdom stars Chris Pratt and Bryce Dallas Howard try to bring a dinosaur in a pet carrier onto a flight. Pratt tries to sell the un-moved TSA agent on the dino being a service animal, but the agent ain't buying it. This is a funny idea in concept, but lord almighty does it go on and on. This is almost a full two-minutes long for a one-note joke, and folks, that's a bit much.
Jurassic World: Fallen Kingdom roars into theaters on June 22, 2018.