'Mission: Impossible – Fallout' Trailer: Henry Cavill Has A License To Kill Ethan Hunt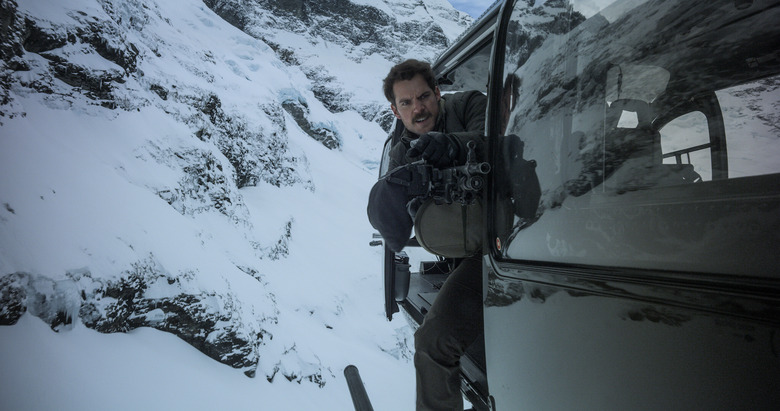 The Mission: Impossible movies have consistently delivered sleek action, eye-popping practical effects, and compelling characters, and the sixth film looks like it will more than deliver on all three.
The full Mission Impossible Fallout trailer gives us even more action-packed shots of Tom Cruise endangering his life, as well as a better look at Henry Cavill's antagonistic CIA agent with a glorious mustache and a hell of a right hook.
Mission Impossible Fallout Trailer
The latest Mission: Impossible sequel finds Ethan Hunt (Cruise) and his team haunted by past mistakes, as a mission gone wrong puts IMF at odds with the CIA. Soon, Ethan finds himself on the run, again, with Henry Cavill's brawny and brutal assassin given license to kill him.
This latest trailer is jam-packed with more plot than previous trailers, propping Cavill up as this movie's Big Bad, even though Sean Harris still plays the villain. The film looks phenomenal, and a breath of fresh air from the comic book CGI fests that currently dominate the multiplexes. Director Christopher McQuarrie, who is the first director to return to the franchise after helming Rogue Nation, smartly hones in on the sleek action set pieces and the inherent humor in the ridiculously heightened situations that Ethan Hunt finds himself in. Literally — he dangles from several helicopters and tall buildings.
Franchise favorites like Michelle Monaghan, Simon Pegg, and Ving Rhames return as well Rogue Nation breakout Rebecca Ferguson. Angela Bassett joins the cast as the intimidating CIA superior who sics Cavill on Hunt and his team.
Here is the official synopsis of Mission: Impossible – Fallout:
The best intentions often come back to haunt you.  MISSION: IMPOSSIBLE – FALLOUT finds Ethan Hunt (Tom Cruise) and his IMF team (Alec Baldwin, Simon Pegg, Ving Rhames) along with some familiar allies (Rebecca Ferguson, Michelle Monaghan) in a race against time after a mission gone wrong. Henry Cavill, Angela Bassett, and Vanessa Kirby also join the dynamic cast with filmmaker Christopher McQuarrie returning to the helm.
Mission: Impossible – Fallout opens in theaters on July 27, 2018.