One Of Donald Glover's 'Black Panther' Contributions Revealed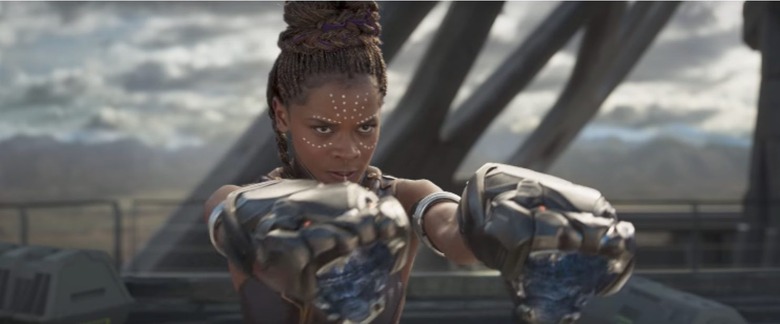 When Marvel Studios' Black Panther shot to a record-breaking opening weekend earlier this year, we heard that multi-talented superstar Donald Glover and his brother Stephen Glover helped punch up some of the jokes in the film's script. But we haven't been able to confirm which moments in the movie were the result of their contributions...until now.
On the movie's home video commentary track, director/co-writer Ryan Coogler revealed one of the Donald Glover Black Panther jokes that made the final cut.
ScreenRant checked out the new Blu-ray, and during the commentary track, Coogler pointed out one of the jokes that was suggested by Solo: A Star Wars Story actor Donald Glover.
When T'Challa (Chadwick Boseman) returns to Wakanda after the events of Captain America: Civil War, he participates in a coronation ceremony in front of his family and some of the people of his tribe on the edge of a waterfall. When Zuri (Forest Whittaker) asks if anyone wishes to challenge the new king for the throne, T'Challa's younger sister Shuri (Letitia Wright) raises her hand. The crowd gasps, but we quickly learn she was only joking. "This corset is really uncomfortable," she says, "so could we call just wrap it up and go home?" According to Coogler, that joke was Glover's idea. It's a fun bit that showcases the dynamic between brother and sister, and it also provides a moment of levity in an otherwise serious scene.
Glover previously talked about how he got involved in the project, explaining the story to Entertainment Tonight:
"[Director] Ryan [Coogler] was gracious enough to be like, 'Will you take a look at this script?' Which was really cool. Marvel locks things down, so we had not as much time as I would've wanted. We had a couple of hours to punch up some jokes and stuff like that. It was already there anyway. They had already done a great job, so it was really cool to just get our fingerprints on there a bit."
We're not sure if that Shuri moment was the only joke the Glover brothers added to the Black Panther script (which is credited to Coogler and Joe Robert Cole), but I'm sure it won't be long until more comes out about their contributions to the film.
Meanwhile, Glover is about to fly into theaters as Lando Calrissian in Solo: A Star Wars Story, and recently lit the internet on fire with his music video for "This is America."