'Climax' Trailer: Director Gaspar Noé Is Back With A Hypnotic Fever Dream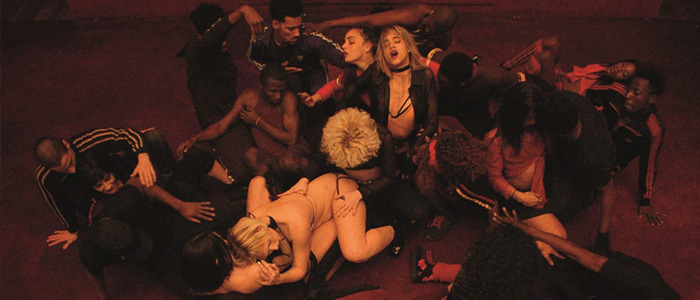 Provocateur director Gaspar Noé has built his career on scandalous movies like I Stand Alone, Enter the Void, Irreversible, and Love. Now he's back with Climax, a trippy drama about a group of dancers who drink spiked sangria, and some critics are calling it his best movie yet. Sofia Boutella (Kingsman: The Secret Service, The Mummy) leads the cast, and you can watch the first Climax trailer below.
Climax Trailer
Noé is not what anyone would call a pleasant filmmaker. His previous movies have been riddled with controversial, disturbing imagery, in which he's depicted actual unsimulated sex (in 3D, no less), abuse, father/daughter incest, and graphic sexual violence, perhaps best (or worst?) embodied in an infamous rape scene in 2002's Irreversible. But Noé seems to relish and lean in to the outsized reactions to his work, as represented in this poster for Climax: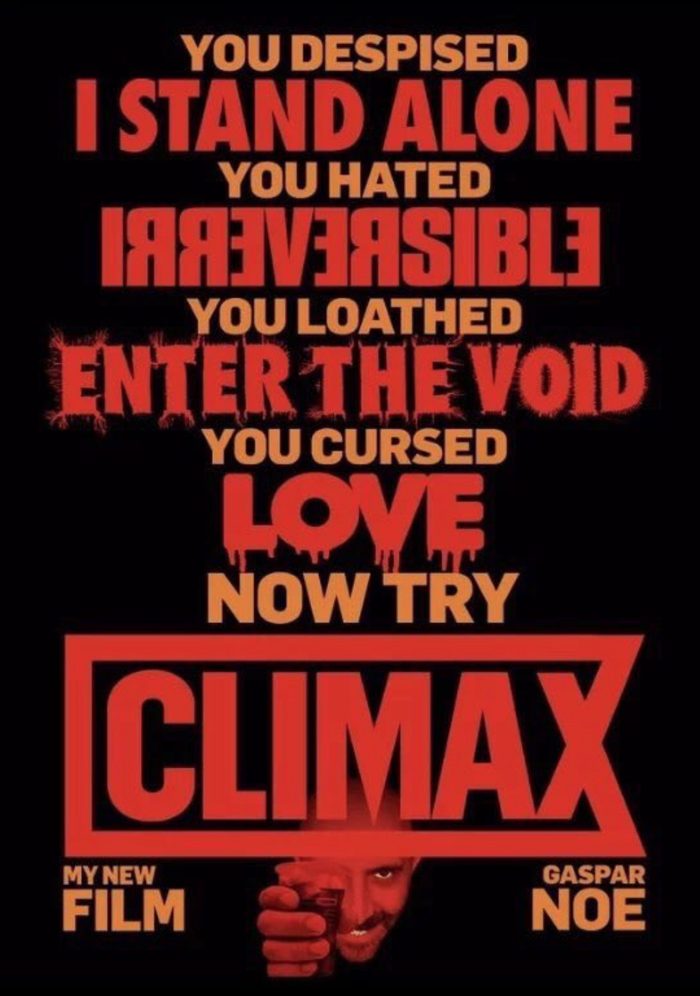 Seems like a chill guy, huh?
But despite the filmmaker's in-your-face attitude, it seems as if Climax may be among his most accessible – and potentially even his best – film(s) yet. The movie debuted a few days ago at the Cannes Film Festival, and the reactions seemed largely favorable.
Eric Kohn at Indiewire praised the "drug-induced frenzy," saying:
Gaspar Noé's remarkable psychedelic ride is his most focused achievement, a concise package of sizzling dance sequences and jolting developments that play like a slick mashup of the "Step Up" franchise and "Salo, or the 120 Days of Sodom," not to mention the disorienting cinematic trickery of Noé's own provocative credits.
"Climax" shares much in common with the levitating camerawork of his divisive "Enter the Void," but unlike that sprawling endeavor, this 96-minute odyssey feels like just the right length to encapsulate his talent for disorienting viewers while inviting them into his madcap intentions of overtaking their senses. It might be his best movie; it's certainly the best snapshot of a talented filmmaker committed to fucking with your head.
Robbie Collin at Telegraph calls it a return to form:
There is nothing as grueling here as there was in Irreversible, nor anything as explicit as Love, though the film hardly disappoints on either front: horrifyingly, the female choreographer has brought her young son Tito with her, whose presence becomes a recurring source of heart-in-mouth discomfort. Noé has created a churning, repellent, wildly sexy tanztheaterwerk of pure Boschian decadence and derangement. It's nice to have him back.
Giovanni Camia at The Film Stage called it "intoxicating," and said that the film's insanity serves a purpose:
There's non-stop screaming, vicious beatings, self-harm, sexual assaults, incest, one girl's hair goes up in flames, and another recreates Isabelle Adjani's Possession freak-out to the tune of Aphex Twin's "Windowlicker." It's all insane and intoxicating, and what's perhaps most remarkable is that, ultimately, the ugliness and excess is legitimized by being in the service of an elaborate and ecstatically realized celebration of dancing as an art form.
Here's the film's synopsis:
In the mid 90's, 20 urban dancers join together for a three-day rehearsal in a closed-down boarding school located at the heart of a forest to share one last dance. They then make one last party around a large sangria bowl.
Quickly, the atmosphere becomes charged and a strange madness will seize them the whole night. If it seems obvious to them that they have been drugged, they neither know by who nor why. And it's soon impossible for them to resist to their neuroses and psychoses, numbed by the hypnotic and the increasing electric rhythm of the music... While some feel in paradise, most of them plunge into hell.
A24 is nearing a deal for Climax's domestic distribution rights, so I expect this will see a limited theatrical release in the U.S. sometime later this year.