'Nightflyers' Teaser: Get Your First Look At The Creepy George R.R. Martin Syfy Series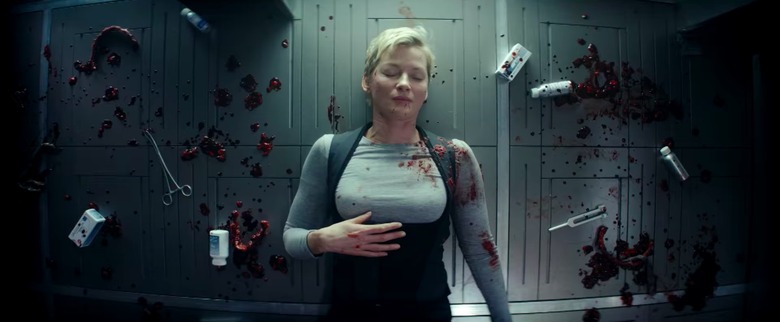 When George R.R. Martin's 1980 novella Nightflyers got its first feature film adaptation in 1987, the sci-fi film was the height of camp: low-budget, self-indulgent, and just plain weird. And though the cable network Syfy has a fair share of shows that embody exactly that kind of camp, its Nightflyers adaptation couldn't be further from that description. The creepy, bloody, and freaky Nightflyers teaser gives us a glimpse of the serious and brooding Syfy take that Martin's science-fiction horror story deserves.
Nightflyers Teaser
Nightflyers follows a powerful telepath on The Nightflyer, whose expedition is rudely cut short when the spaceship makes contact with a dangerous entity that threatens the entire ship. The teaser is a moody glimpse of the series that is far more subdued than the first look we had of the show.
The first behind-the-scenes teaser gave us a more brutal look at Nightflyers, complete with a bloodied crew fighting for survival against a mysterious...thing. "Nightflyers is a haunted house story on a starship. It's Psycho in space," Martin describes in the teaser below.
Nightflyers Teaser Behind-The-Scenes
Martin also serves as an executive producer on the project, which is produced by Universal Cable Productions and co-produced by Netflix. Jeff Buhler wrote the adaptation for television and is the showrunner and executive producer.
Martin and Buhler have been eagerly working toward this series for months, with Martin first teasing the Syfy series on his Livejournal blog back in November. It's exciting to see that their vision is coming to life, though it only makes me a little irritated that Martin is taking time out of his busy Winds of Winter writing schedule to do behind-the-scenes interviews for this series.
Nightflyers stars Eoin Macken (The Night Shift) as Karl D'Branin, Sam Strike (EastEnders) as Thale, Maya Eshet (Teen Wolf) as Lommie, Angus Sampson (Fargo) as Rowan,  Jodie Turner-Smith (The Last Ship) as Melantha Jhirl, Gretchen Mol (Boardwalk Empire) as Agatha, David Ajala (Fast & Furious 6) as Roy Eris, and Brían F. O'Byrne (Million Dollar Baby) as Auggie.
Here is the official synopsis for Nightflyers:
In 2093, in hopes of making contact with a mysterious alien life at the edge of our solar system, a group of maverick scientists and a powerful telepath embark on an expedition aboard The Nightflyer. As they race towards first contact, terrifying and violent events begin to occur, causing the once tight-knit crew to mistrust each other. It's not long before their main mission becomes survival.
Nightflyers will premiere this Fall 2018 on Syfy. It will premiere internationally on Netflix at a later date.