'Fast And Furious 9' Hires A New Writer For The Franchise For The First Time Since 2006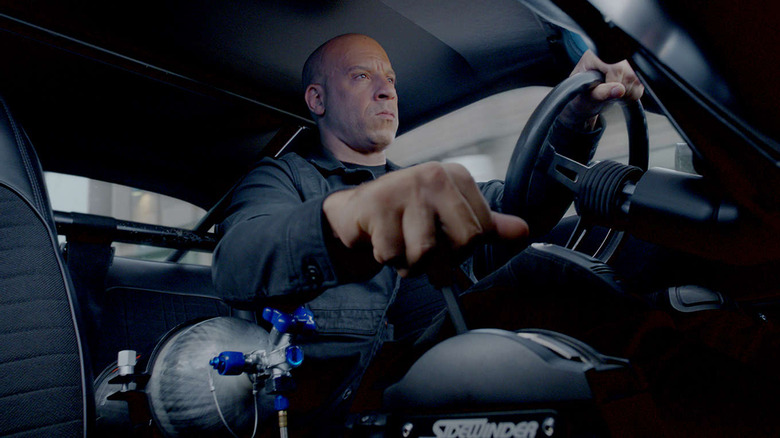 The Fast and Furious franchise has tapped a new writer to steer the action franchise. For the first time since 2006, Universal has hired a new screenwriter to pen a film in the series. Up-and-coming screenwriter Daniel Casey, who penned the upcoming sci-fi thriller Kin, is the new Fast and Furious 9 writer and will script the sequel helmed by Justin Lin.
The Fast and Furious franchise will start to head in a slightly different direction. Daniel Casey has been tapped to write Fast and Furious 9, according to The Hollywood Reporter, making him the first new writer on the series in 12 years.
Casey wrote the screenplay for the upcoming science fiction movie Kin starring James Franco. His screenplay for The Heavy, a subversive twist on superheroes, was just picked up by Paramount Pictures, Bad Robot, and J.J. Abrams.
But this doesn't meant that Chris Morgan, who first boarded the franchise with 2006's The Fast and the Furious: Tokyo Drift and wrote the five installments that followed, will be exiting the series. Instead, he will be writing and producing the Hobbs and Shaw spin-off set to star Dwayne Johnson and Jason Statham. Fast and Furious star Vin Diesel may preach "family" when it comes to this franchise, but when it comes to Johnson's spin-off, it's starting to feel like the parents splitting up the kids in the divorce.
Even with Morgan parting ways with the core series of films that he helped shape from Tokyo Drift to last year's The Fate of the Furious, Universal is keeping it all in the family. Lin, who helped revitalize the series with Tokyo Drift and helmed the series-best Fast Five, is returning to the franchise after last directing Fast and Furious 6. Lin will also direct Fast and Furious 10, which will reportedly mark the end of the high octane series.
Diesel teased that the next Fast and Furious sequel could take the gang to Africa, one of the few continents that the globe-trotting action franchise hasn't visited yet. But I still have my money on them getting launched into space. Maybe that's where they'll find Han (and justice)! Who knows, anything is possible with this series. Hopefully Casey is up to the ever-escalating task.
Fast and Furious 9 is slotted for an April 2020 release.