Plans For Ms. Marvel To Enter The Marvel Cinematic Universe In The Works, Says Kevin Feige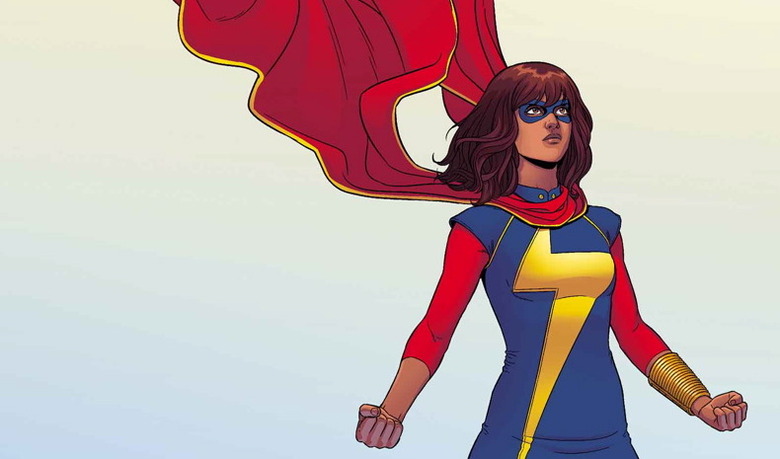 Kamala Khan, aka Ms. Marvel, may finally be coming to the Marvel Cinematic Universe. Marvel Studios President Kevin Feige confirmed that there are "plans" to bring Marvel's first teen Muslim superhero to the big screen, with a potential Ms. Marvel movie in the works after the release of Captain Marvel in 2019.
The debut of the MCU's first solo female superhero has been long-awaited, to say the least. There's no question that Carol Danvers will be a huge inspiration to young Marvel fans when she steps out in her red, gold, and blue suit in 2019's Captain Marvel. But there's one more person inspired by Carol Danvers who could get a big-screen debut of her own: Kamala Khan.
Created by Sana Amanat and Stephen Wacker, writer G. Willow Wilson and artist Adrian Alphona, the Pakistani-American teen superhero from Jersey City made a splashy comics debut with her own title in 2014, and has gone on to become one of the most popular new Marvel characters today. And now this fan-favorite character (whose very vocal fans have called for a solo movie nearly every day on Twitter) could finally make her MCU debut. In an interview with BBC, Kevin Feige confirmed that a Ms. Marvel movie is "definitely sort-of in the works."
"We're doing Captain Marvel right now. Captain Marvel's shooting right now with Brie Larson. Ms. Marvel, which is another character in the comic books, the Muslim hero who is inspired by Captain Marvel, is definitely sort-of in the works. We have plans for that once we've introduced Captain Marvel to the world."
Feige declined to say how Marvel plans to introduce Kamala Khan, whether it's in a cameo in Captain Marvel, through her own solo film, or through a solo series on Netflix. But whatever the case, Kamala Khan's introduction would be a welcome new addition to Marvel's growing pantheon of diverse superheroes, and a nice way to break up the plethora of white guys named Chris. Plus as a spunky teen superhero, she would be the perfect character to introduce as part of the young generation of heroes like Spider-Man and Black Panther's Shuri (who is not a superhero yet, but I can dream) to lead the future of the MCU.
I couldn't be more excited for a potential Ms. Marvel movie featuring Kamala Khan. The vibrant, peppy, and hilariously awkward character with shape-shifting abilities burst from the pages in her comic book debut and has become one of the comic book characters that I most dearly want to see a feature-film iteration of. And let's face it, Spider-Man has long-stopped being the signature teen superhero in Marvel Comics — but Kamala Khan is a more than worthy successor. She writes fan fiction about her favorite superheroes, she hangs out with her best friend at the local convenience store, she struggles to stay awake at school and at the mosque. And she eternally lives in the shadow of her hero Carol Danvers, the glamorous superhero who disapproves of her over-eager copycat/protegee. It's a lovely, relatable story ripe for a feature film adaptation.
You can see the full video with Feige's comments below.
Marvel is planning to do Miss Marvel after Captain Marvel y'all

Muslims. Prepare to finally be represented. pic.twitter.com/SKFofLDmBt

— Radwa 🇵🇸 (@staarksHeart) May 12, 2018
Captain Marvel opens in theaters on March 6, 2019.