An Unexpected 'Solo' Cameo Has Been Confirmed, But It's Not Who You Think [Updated]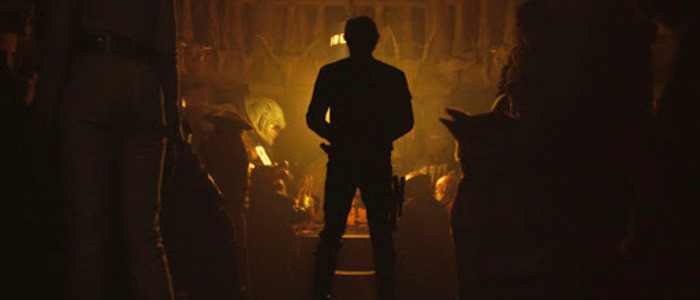 A few days ago, Mark Hamill accidentally let slip a Solo cameo that none of us were expecting. According to Hamill, a well-known Star Wars actor makes a surprise appearance in the newest Star Wars Story film. Now, we have confirmation that Hamill was telling the truth – and that the actor isn't playing the character we thought he was. Spoilers follow.
Update: There's been a new clarification to this story straight from Jonathan Kasdan himself. The original story stated that Anthony Daniels was playing a Wookiee in Solo: A Star Wars Story. Kasdan emailed UPROXX to clear-up any confusion. Here's Kasdan's statement:
"When I was talking about Anthony's cameo, it was a mistake of my syntax, I think. In the escape from the Kessel Mines, Anthony does not play the Wookiee, Sagwa, but rather his best friend, a human slave who beckons Sagwa, not Chewie, to join his escape route. Sagwa in turn invites Chewie to join Tak and himself. I'm sorry that was confusing, so, to make it up to you, I'm including this screen shot from the script that we wrote when we found out we were going to have Anthony in the movie. He was named Tak in homage to legendary DP Tak Fujimoto. And that's an exclusive, my friend. I'm not even sure Anthony knows his character's name."
The original story continues below.
***
You may recall that a week ago, Mark Hamill accidentally revealed that actor Anthony Daniels made an appearance in Solo: A Star Wars Story. During an interview, Hamill said:
"Tony Daniels was so happy, 'cause he's in every single Star Wars movie. Every single one. All the Prequels, he's in Rogue One, he's in Solo... Whoops! I hope that's not...But anyway..."
After this, many assumed Daniels would be reprising his role as everyone's favorite fussy droid C-3PO. After all, that's the character Daniels has played in every Star Wars film. Now, however, we have confirmation that that's not the case. Yes, Daniels is in the film. But no, he's not playing 3PO. Solo co-writer Jonathan Kasdan sat down with Uproxx, and rather than dance around the issue regarding Daniels' cameo, Kasdan decided to give a straight answer. How refreshing! Uproxx writer Mike Ryan notes that when he watched Solo, he failed to notice Daniels – indicating that Daniels likely wasn't playing the hard-to-miss C-3PO. When he pressed for an answer, here's what Kasdan had to say:
"Anthony Daniels is in the movie as a different character...In the Papillon type offshoot story, the Wookiee that helps them escape, Chewbacca's best friend, is played by Anthony Daniels – and beckons him to join them as they escape on a different ship."
Having not seen Solo yet, I'm not sure what "Papillon type offshoot story" Kasdan is talking about, but there you have it: Anthony Daniels has a Solo cameo as a Wookiee. It's worth noting that if Kasdan hadn't admitted this, there would really be no way to tell that Daniels was somewhere in the film wearing a Wookiee costume. But now you know – when you see Solo, keep an eye out for Anthony Daniels as a helpful Wookiee.
Solo: A Star Wars Story opens May 25, 2018.
Board the Millennium Falcon and journey to a galaxy far, far away in Solo: A Star Wars Story, an all-new adventure with the most beloved scoundrel in the galaxy. Through a series of daring escapades deep within a dark and dangerous criminal underworld, Han Solo meets his mighty future copilot Chewbacca and encounters the notorious gambler Lando Calrissian, in a journey that will set the course of one of the Star Wars saga's most unlikely heroes.