G.I. Joe's 'Snake Eyes' Will Lead His Own Spin-Off Film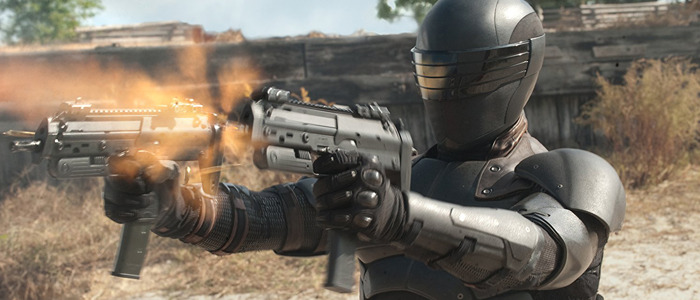 The Hasbro Cinematic Universe continues to expand.
Paramount Pictures is developing a Snake Eyes spin-off movie about the classic G.I. Joe character, a silent ninja who has previously appeared in movies like G.I. Joe: The Rise of Cobra and G.I. Joe: Retaliation.
Yep, A Snake Eyes Spin-Off Film is Coming
Paramount Pictures has been trying to get the Hasbro Cinematic Universe up and running for a while, going as far as to hire a writers' room to develop ideas for film adaptations of popular toy lines. The G.I. Joe franchise is a cornerstone of their plan, and now The Hollywood Reporter says Paramount is developing a separate Snake Eyes spin-off movie.
Evan Spiliotopoulos, who wrote Brett Ratner's Hercules, Disney's live-action Beauty and the Beast, and Universal's The Huntsman: Winter's War, is currently in talks to write the script. This is the second time we've mentioned his name this week, because he's also been tapped to write the screenplay for Netflix's Bright 2. Looks like everything's coming up Spiliotopoulos!
There's no word yet if Ray Park, the actor who portrayed the character in the first two live-action G.I. Joe films, will return to reprise the role. The acrobatic performer was one of the better aspects of those largely-forgettable action films, putting his martial arts skills on display amid the goofy CGI and battles between the opposing forces of Joes and Cobra. In the series' mythology, Snake Eyes is the sworn enemy of Storm Shadow, and the masked hero faced off against the white-clad Storm Shadow in this fight scene from Retaliation:
For me, this mountainside fight sequence involving Snake Eyes was one of the only truly memorable things about either of those films:
Other Hasbro properties currently in development include M.A.S.K. (Mobile Armored Strike Command), which will be directed by The Fate of the Furious filmmaker F. Gary Gray; ROM the Spaceknight, which is being written by Ready Player One's Zak Penn; Action Man, directed by The Muppets helmer James Bobin; and presumably a whole new batch of Transformers movies as well. Oh, and Hasbro just acquired the Power Rangers brand, so you can bet they'll be bringing those characters back to the big screen soon – probably leading toward some massive crossover between all of these franchises. Yeah, good luck with that.
Travis Knight's Bumblebee solo film is the next Hasbro movie to hit theaters, and that one arrives later this year.