Dan Stevens Reunites With 'Legion' Creator For 'Pale Blue Dot'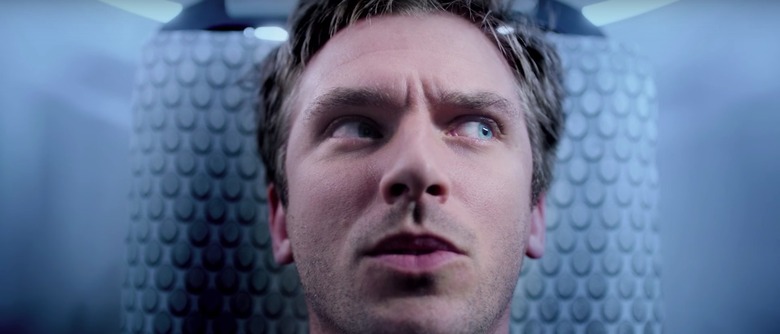 Ever since he managed to do the impossible and adapt the Coen Brother's Oscar-winning movie Fargo into a terrific TV series for FX, I've been patiently waiting to see what Noah Hawley would do in the world of movies. After a brief flirtation with Universal's Dark Universe (RIP, we barely knew ye) and creating the brain-melting series Legion, Hawley lined up his feature directing debut, an astronaut drama called Pale Blue Dot. Now he's bringing his Legion star along for the ride – Dan Stevens has just signed on play a supporting part.
Read on for more about the Dan Stevens Pale Blue Dot role.
The Hollywood Reporter says Stevens (Beauty and the Beast) has joined the cast of the Fox Searchlight drama, which stars Natalie Portman (Black Swan), Jon Hamm (Mad Men), and Zazie Beetz (Atlanta, Deadpool 2).
The movie centers on Portman's character, a married astronaut who begins an affair with a fellow astronaut after she returns home from a space mission. Stevens will play Portman's husband, Hamm will play the astronaut she has an affair with, and Beetz plays an astronaut trainee that Hamm begins sleeping with – a development that causes Portman's character to spiral out of control and lose touch with reality. All this sounds very much up Hawley's alley. He's built his career so far telling stories about characters who lose touch with reality (Legion) and/or spiral out of control (Fargo), so it's easy to see why he sparked to this script by writers Brian C. Brown and Elliott DiGuiseppi.
Big Little Lies actress Reese Witherspoon was initially lined up to star in this film, but she had to drop out earlier this year to shoot the second season of the HBO series. (She remains a producer on Pale Blue Dot.) That's when Portman stepped in to play the lead role. If the story sounds vaguely familiar, that's because it's loosely based on the real story of a bizarre love triangle between astronauts back in 2007, when a female mission specialist tried to kidnap a romantic rival.
Meanwhile, Hawley has a bunch of other projects on his plate, including a comic book movie focused on Doctor Doom, yet another FX series called The Mastermind, and additional seasons of Legion and Fargo to boot. He's been trying to get Pale Blue Dot off the launchpad for over a year, so here's hoping we get a chance to finally see this one sometime soon.