SXSW Favorite 'Prospect' Nabs Distribution Under Gunpowder & Sky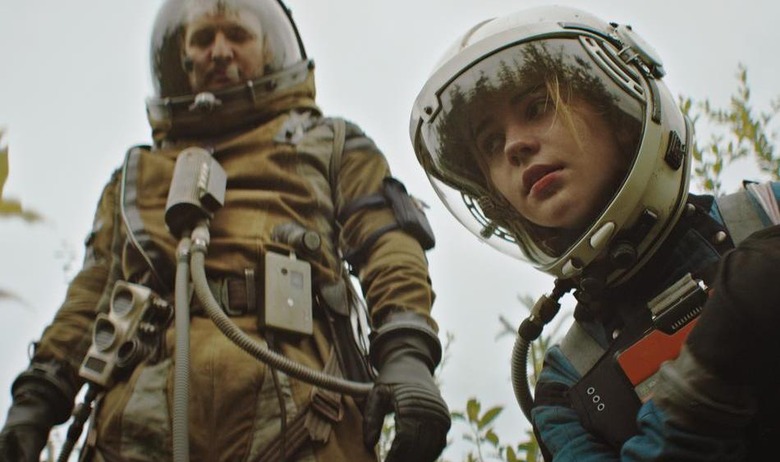 Prospect's prospects are looking bright. The indie sci-fi film starring Pedro Pascal earned raves at South by Southwest, where it quickly became a film festival favorite. And now, Gunpowder & Sky have stepped in to handle the Prospect distribution.
Gunpowder & Sky has acquired worldwide rights to Prospect, according to Variety.
The relatively new digital content studio launched by Van Toffler and backed by AT&T and Chernin Group has been building an eclectic, auteur-driven catalogue, also buying Sundance hits Hearts Beat Loud and Summer of 84. Now it has nabbed Prospect, a film that made a big splash at SXSW earlier this year.
Gunpowder & Sky will release the film theatrically in the U.S. later this year through its sci-fi label Dust. It's part of the company's shift to focus on sci-fi as the genre is poised to take over the pop culture zeitgeist. Co-founder and president of Gunpowder & Sky, Floris Bauer, said.
"Science-fiction explores what it means to be human and where we're heading as humans. We're living in times where technology is accelerating at a faster and faster rate."
Directed by Zeek Earl, Chris Caldwell, Prospect follows a teenage girl and her father (Pascal) who travel to a remote moon looking to strike it rich by harvesting a large gem deposit. But things immediately go wrong, and the father and daughter are forced into a desperate fight for survival against hostile natives.
In his Prospect review from SXSW, /Film's Jacob Hall called it "the best indie science fiction movie since Moon, adding:
"Prospect is the kind of science fiction movie we need to see more often, told by filmmakers who don't allow the vastness of their vision to get beaten down by the scope they're able to work within. It's an enthralling tale of trust, survival and redemption set in a universe that demands additional exploration."
Prospect stars Sophie Thatcher, Jay Duplass, Sheila Vand, Andre Royo, and Anwan Glover.
Independent will handle sales outside the U.S. Prospect is also being shopped around at Cannes, where the London-based sales firm also will screen for potential buyers.
No domestic release date for Prospect has yet been set.