Get Your First Look At The All-Star Cast Of Jessica Chastain's '355' Movie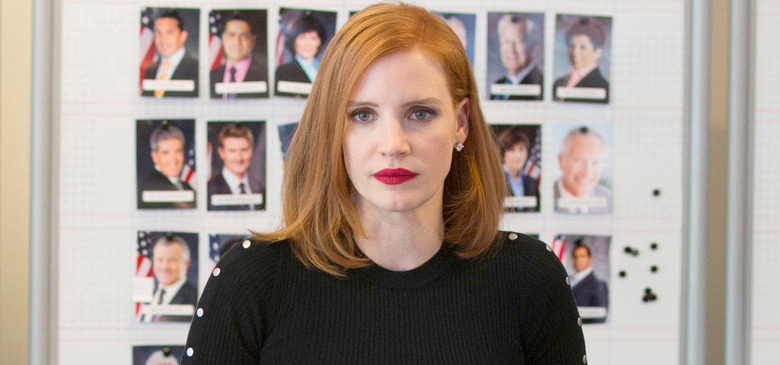 Everything surrounding Jessica Chastain's highly anticipated spy movie 355 has remained top secret. Until now. When the star-studded cast — including Lupita Nyong'o, Marion Cotillard, Penelope Cruz, and Fan Bingbing —united at Cannes, the first few plot details for what sounds like the best spy movie of this decade were revealed. If you weren't ready to throw all your money at this movie already, be prepared to empty your entire wallet.
What happens when you get two Oscar winners, two international stars, and Jessica Chastain in a room? You get the most glorious cast photo to ever grace our eyeballs. Feast your eyes on this abundance of talent and beauty in the first 355 cast photo.
Top secret no more. Mission Accepted! #355Movie #电影355 #CannesYouHandleUs pic.twitter.com/W2MoZK1q6v

— Lupita Nyong'o (@Lupita_Nyongo) May 10, 2018
I don't even need to see a trailer – I'm already in the theater to see this. Yes, this cast photo is so powerful that it gave me the power of time travel (there are a lot of things on fire here, except for this movie theater). But just when I thought that I — and the rest of Twitter — couldn't be more excited to see 355, the cast members of the spy movie are there to outshine us all. See: Nyong'o gushing over each individual actress on her Twitter account. See also: Penelope Cruz, who remains a highly undervalued actress outside of her meaty roles in Pedro Almodovar movies. At a private event with investors that one journalist managed to sneak into, Cruz thanked Chastain for assembling this stunning group of women for 355.
"I said to Jessica, 'You are our Santa Claus,'" Penelope Cruz said, according Vanity Fair's Rebecca Keegan. "It is very emotional to be part of the project."
Chastain spearheaded this project about a group of "international agents in a grounded, edgy action thriller that aims to alter a male-dominated genre with a true female ensemble, in the style of spy franchises The Bourne Identity, Mission: Impossible and James Bond." The actress said that the idea for 355 started last year at Cannes, during a conversation with her agent about why there were not female action films in the marketplace. Soon, Chastain pitched the idea of an all-female spy movie to Simon Kinberg while on the set of X-Men: Dark Phoenix, and 355 quickly came together with Kinberg directing, Theresa Rebeck penning the script, and the all-star cast of female superstars assembling. The film has already been picked up by French distributor SND, according to Deadline.
One of those stars was Nyong'o, who collaborated heavily with Chastain to bring the project together. Nyong'o will be playing a rare movie character: an African woman intelligence agent, one that the Oscar winner was excited to bring to the big screen, she said in the investor meeting.
"I have never seen an African woman intelligence agent. To me that was important because I know they exist. What she uses to her advantage is people's' underestimating her."
Not sold yet? Well here's another nifty detail:
Chastain said she and Marion Cotillard have a fight scene on motorcycles. #355Movie

— Rebecca Keegan (@ThatRebecca) May 10, 2018
Okay, this is officially the best movie of all time.
Already in a handful of tweets, Chastain and co. have painted for us a better vision of powerful female characters than we've seen in Hollywood in the past decade. Most of this cast have been relegated to supporting character gigs as the token person of color (Bingbing in X-Men: Days of Future Past for example) or exotic sex symbol (Cruz) when we all know they're capable of so much more. So it's amazing that they're taking things into their own hands and giving us the female-led action movie we deserve.
And I repeat: Jessica Chastain and Marion Cotillard have a motorcycle fight scene.