'Solo' Clips: Hear Villain Enfys Nest Speak For The First Time & More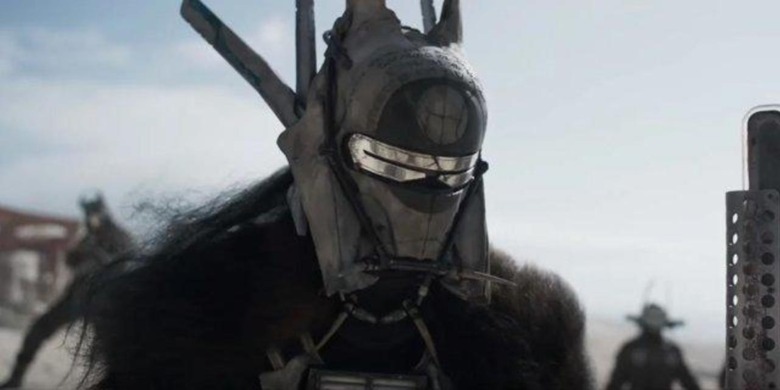 Another day, another round of Solo clips. A whole new selection of footage from Solo: A Star Wars Story has been unveiled as the cast members of the latest Star Wars film roll out onto the press tour. And thanks to the clips, we learn even more about the supporting characters and villains in one of Han Solo's earliest adventures.
"Villain" is a strong term to throw around when Han is dealing with grifters, criminals, and gangsters who threaten to kill him on a daily basis. But there is apparently a Big Bad that Tobias Beckett's (Woody Harrelson) team of thieves do face off against, and that's the mysterious Enfys Nest. A pirate who leads the ruthless Cloud-Riders, Enfys Nest is a masked figure whose identity — and gender! — are shrouded in mystery.
Solo Clips: Enfys Nest Speaks
Here, the gang faces off against Enfys Nest, who holds a grudge against Beckett. Unfortunately, Han (Alden Ehrenreich) steps in to try to bluff his way out of the situation, only to fail miserably.
We don't learn much more about Nest, except that the character speaks in a deep, robotic voice. This doesn't narrow down the gender any more, but the use of a voice distorter does point to the character being a woman.
Solo Clips: Making the Jump to Hyperspace with L3-37
L3-37 promises to be a scene-stealing character. Played by Fleabag actress Phoebe Waller-Bridge, the droid oozes snark and charisma — and a little bit of oil too. But Lando Calrissian (Donald Glover) seems attached to the rusty old droid in a brief new clip (which starts at the 5:50 mark in the embed above) showing the two of them trading banter before going into hyperdrive. Of course, Han — who consistently comes off as the annoying younger brother in each of these Solo clips — interrupts, probing Lando about the jump to hyperspace. But L3-37 shuts down their "flirtation," and the crew get ready to make the jump.
Directed by Ron Howard, the film also stars Emilia Clarke, Thandie Newton, Joonas Suotamo, and Paul Bettany.
Solo: A Star Wars Story hits theaters on May 25, 2018.
Board the Millennium Falcon and journey to a galaxy far, far away in "Solo: A Star Wars Story," an all-new adventure with the most beloved scoundrel in the galaxy. Through a series of daring escapades deep within a dark and dangerous criminal underworld, Han Solo befriends his mighty future copilot Chewbacca and meets the notorious gambler Lando Calrissian, in a journey that will set the course of one of the Star Wars saga's most unlikely heroes.