'Alex Strangelove' Trailer: Netflix Gets In On The 'Love, Simon' Love With Its Own Gay Teen Comedy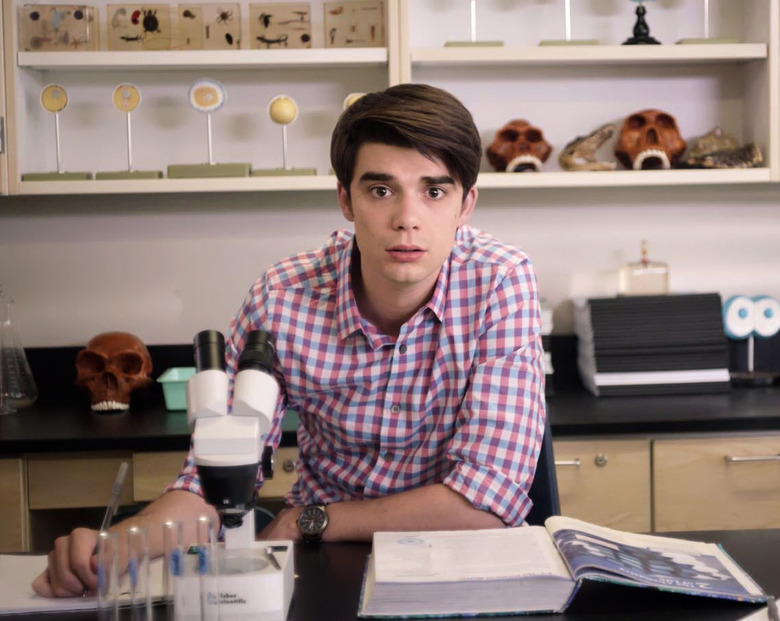 Did you love Love, Simon but don't have enough money in your bank account to see it for the fifth time in theaters? For those itching for their next teen comedy fix, Netflix has the answer. And better yet, Netflix has a sweet, raunchy gay coming-of-age comedy that has more than a few similarities to Love, Simon: Alex Strangelove.
The first Alex Strangelove trailer promises everything that a gay teen comedy needs: a charming cast, witty dialogue, easy access from your couch — and of course, a heartfelt story about a young, shy teenager who is figuring out his sexuality.
Alex Strangelove Trailer
Alex Truelove is just your ordinary teen with an unfortunate last name. He daydreams in anatomy class about sex, he gets dragged to parties by his friends, and he thinks about all the ways that he can lose his virginity. That is, until he meets a gay kid name Elliott and starts questioning his own sexuality.
Alex Strangelove seems like Netflix's answer to Love, Simon, the sleeper hit of the spring that was met with critical acclaim. Love, Simon put an LGBT twist on a generic story — and for that, made the movie feel revolutionary. Alex Strangelove doesn't have the novelty of Love, Simon but it looks like it shares the heart.
The Netflix film is a little raunchier than its theatrical counterpart, but The Skeleton Twins director Craig Johnson infuses the film with a whimsical visual style that makes it stand out a bit from the rest of Netflix's growing collection of teen comedies. Plus Alex Strangelove's gangly, wide-eyed star Daniel Doheny looks like a cross between Riverdale's KJ Apa and Breaking Bad's RJ Mitte. I don't know if that's a draw for you, but it definitely made me click on the trailer thinking that I'd seen him somewhere before. Which is all that Netflix needs to get you hooked on its latest high school comedy.
Here is the official synopsis for Alex Strangelove:
High school senior Alex Truelove (Daniel Doheny) has it all – the grades, the girlfriend (Madeline Weinstein), and the motley crew of hilarious friends. Everything is smooth sailing until Alex shares that he's decided to part ways with his virginity – and meets Elliott (Antonio Marziale), a sweet and confident gay boy who isn't shy about his instant crush on Alex...who may or may not feel the same. Rocketed into a endearing and amusing journey of sexual and self-exploration, Alex ultimately learns that like so much of growing up, love can be confusing. And that's okay.
Alex Strangelove premieres on Netflix on June 8, 2018.