Trailer Round-Up: 'Adrift', 'Distorted', 'The Yellow Birds', And More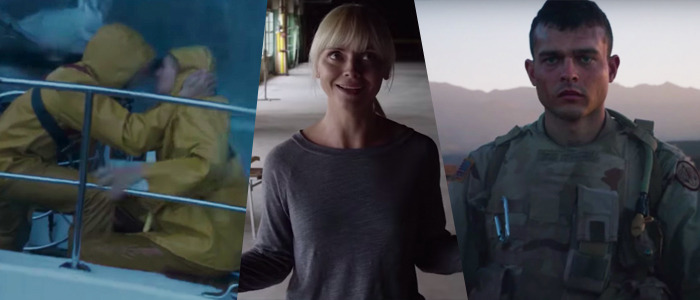 It's time for another trailer round-up, where we lasso a handful of the latest trailers and wrangle them into one place for your viewing convenience. Below, you'll find trailers for a true survival story called Adrift, the paranoia techno-thriller Distorted, a war drama adaptation of The Yellow Birds, cheesy romance Dog Days, and more.
Adrift Trailer
Shailene Woodley and Sam Claflin star in Adrift, the latest movie from director Baltasar Kormakur (Contraband, 2 Guns). Remarkably, this survival tale is based on the true story of a young couple who are caught in one of the most devastating hurricanes in history. This looks properly intense, so count me in.Adrift hits theaters on June 1, 2018.
As the two sailors set out on a journey across the ocean, Tami Oldham (Woodley) and Richard Sharp (Claflin) couldn't anticipate they would be sailing directly into one of the most catastrophic hurricanes in recorded history. In the aftermath of the storm, Tami awakens to find Richard badly injured and their boat in ruins. With no hope for rescue, Tami must find the strength and determination to save herself and the only man she has ever loved.
Distorted Trailer
Distorted is a paranoia techno-thriller starring Christina Ricci and John Cusack, who's very clearly in the "I don't give a shit" phase of his career. This looks like it was written by someone who watched a double-feature of the Disney Channel Original movie Smart House and Ben Wheatley's High-Rise, but I'm not convinced this will end up being better than either of those films. Distorted is coming to select theaters and VOD sometime this fall.
A 32-year-old woman suffering from bipolar disorder comes to suspect the proprietor of the state-of-the-art "smart apartment" she and her husband just moved into is using the building's residents as unwitting guinea pigs for a "synthetic telepathy'" brainwashing plot with dire global ramifications.
Condor Trailer
This is the first I'm hearing of this show (probably because it's an AT&T original), but Condor is based on the terrific conspiracy thriller Three Days of the Condor and has a stellar cast that includes Max Irons, William Hurt, Mira Sorvino, Brendan Fraser, and Bob Balaban. That alone might make it worth tuning in for, and we'll find out when it comes to the AT&T-owned Audience Network on June 6, 2018.
Condor follows young CIA analyst Joe Turner, whose idealism is tested when he stumbles onto a terrible but brilliant plan that threatens the lives of millions. Turner is an idealistic millennial who secretly joins the CIA hoping to reform it from within. But when everyone in his office is massacred by professional killers, this brilliant analyst is forced out of his ivory tower think tank and into battle with the most dangerous elements in the military-industrial complex. If he is to have any chance of surviving, Joe will have to do things he never imagined himself capable of — and discover that no one knows their true character until they've been tested under fire.
The Yellow Birds Trailer
Alden Ehrenreich, Tye Sheridan, Toni Collette, Jennifer Aniston, and Jason Patric star in this intense-looking war thriller that debuted at last year's Sundance Film Festival. There appear to be all kinds of secrets bubbling underneath the surface, and the movie has already won an award for its cinematography, so it's probably worth a watch. The Yellow Birds is coming to DirecTV on May 17, 2018, and it'll arrive in limited theaters and VOD on June 15, 2018.
Two young soldiers, Bartle (21) and Murph (18) navigate the terrors of the Iraq War under the command of the older, troubled Sergeant Sterling. All the while, Bartle is tortured by a promise he made to Murph's mother before their deployment.
Dog Days Trailer
Welp, I'm kinda baffled at this one. Comedian Ken Marino, who recently directed How to Be a Latin Lover, is behind the camera on this schmaltzy-looking rom-com, which managed to snag a great cast that includes Adam Pally, Nina Dobrev, Vanessa Hudgens, Eva Longoria, and Finn Wolfhard. Despite the fact that I like a lot of those performers, this one's a hard pass for me.
From acclaimed production company LD Entertainment (The Zookeeper's Wife, Jackie, and Megan Leavey) and Director Ken Marino comes Dog Days. Dog Days is a hilarious and heartfelt ensemble comedy that follows the lives of multiple dog owners and their beloved fluffy pals around sunny Los Angeles. When these human and canine's paths start to intertwine, their lives begin changing in ways they never expected.
Book Club Trailer
We've now hit the point where Fifty Shades of Grey – a piece of fan fiction inspired by Twilight – has inspired an entirely separate movie about four older women who gather together to read it. This is absolutely not my tempo, but at least it looks like stars Diane Keaton, Jane Fonda, Mary Steenburgen, and Candice Bergen are having fun.
Diane (Diane Keaton) is recently widowed after 40 years of marriage, Vivian (Jane Fonda) enjoys her men with no strings attached, Sharon (Candice Bergen) is still working through her decades-old divorce, and Carol's (Mary Steenburgen) marriage is in a slump after 35 years. The lives of these four lifelong friends are turned upside down after reading the infamous "50 Shades of Grey," catapulting them into a series of outrageous life choices.
A Very English Scandal Trailer
Hugh Grant and Ben Whishaw star in this three-part miniseries that tells the true story of a controversial affair between a prominent parliament member and his secret lover. Stephen Frears directs, and it arrives on the BBC sometime in 2018.
A Very English Scandal is the story of an illegal love affair that threatened the life of one man and the entire British establishment. Directed by Stephen Frears (The Queen, Philomena) and written by Russell T Davies, this brand new three-part series is a darkly comic adaptation of true events.
American Woman Trailer
Let's wrap things up with a trailer for a TV series coming to the Paramount Network. Alicia Silverstone (remember her?) stars in American Woman, a show about a newly-single mother in 1970s Beverly Hills who proves she's strong enough to make it with the help of her friends. It's nice to see Silverstone again, but if this trailer is an accurate indication of the quality of the writing in this series, I'll be skipping this one. American Woman premieres on June 7, 2018.
Inspired by the upbringing of co-executive producer and Real Housewife of Beverly Hills Kyle Richards, this series follows an unconventional mom named Bonnie (Alicia Silverstone) struggling to raise her daughters with the help of her two best friends Kathleen (Mena Suvari) and Diana (Jennifer Bartels) as they discover their own brand of independence amid the rise of second-wave feminism in the 1970s.