'Solo: A Star Wars Story' Clips And Poster: Lessons Are Learned And Bets Are Made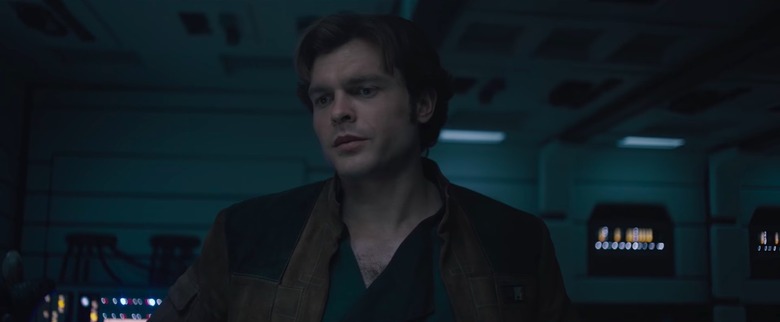 Disney and Lucasfilm are ramping up the Solo marketing machine, with three new clips and a spanking new poster of the titular cocksure smuggler, Han Solo. But these new Solo clips give us a picture of the young Han (Alden Ehrenreich) before he became the dashing criminal we know and love — and the colorful characters who helped and hurt him along the way.
Han's origin story is slowly becoming clearer with the new Solo clips released by Lucasfilm. And while much of the story and characters are completely new, the most recent clip debuted by Woody Harrelson at Jimmy Kimmel Live! has some intriguing connections to the Star Wars EU.
Solo Clip 1: Woody Harrelson
This clip is only 30 seconds long, but in those 30 seconds we learn more about Han than we have in most of the past trailers. And it suggests that Solo draws heavily from Han's backstory that was first introduced in the Star Wars Expanded Universe, as io9 suggests.
The clip follows on Tobias Beckett (Harrelson) and Val (Thandie Newton, finally speaking and sounding badass!) as they plot to steal something during an Imperial assault on what looks to be Mimban (also from the Expanded Universe). The two of them are disguised as ground troopers, but are easily spotted by Han, a Imperial soldier who approaches them with a proposal: to let him join their mission.
This is an intriguing scene that ties to Han's EU origin as an ex-Imperial soldier who rises to the ranks as an ace pilot before leaving the Empire because he's cursed with a conscience. Solo tweaks that a bit to make Han a soldier who eagerly joins the Empire with dreams of becoming a pilot — only to be stuck on Mimban as a lowly ground trooper. Bored with that life, he jumps ship and joins in with Beckett and Val to become a smuggler — conscience be damned.
Solo Clip 2: Holochess
As you can tell, Han Solo is a betting man. He bets on a new set of allies by hoping to impress them through ego alone. And he apparently was betting on Chewie winning that game of Holochess, from the downcast look he gives after Chewie loses spectacularly to Beckett.
Now we couldn't have a Han Solo movie without showing his most famous story: the game of Sabacc that won him ownership of the Millennium Falcon. Han meets Lando Calrissian (Donald Glover) in the third new Solo clip, which begins a lifetime of friendship and of Lando pronouncing Han's name wrong.
Solo Clip 3: Han Meets Lando
My favorite thing about this clip (apart from how visually stunning it is, go Bradford Young!) is that it turns Billy Dee Williams' inability to say "Han" into a running joke. As Han and Lando cautiously introduce themselves, Han mispronounces Sabaac only for Lando to throw it back with his delightfully straight-faced mispronunciation of "Han." And then he totally ignores when Han corrects him. Classic Lando.
Han's gambling nature gets the spotlight too in the latest poster from Lucasfilm.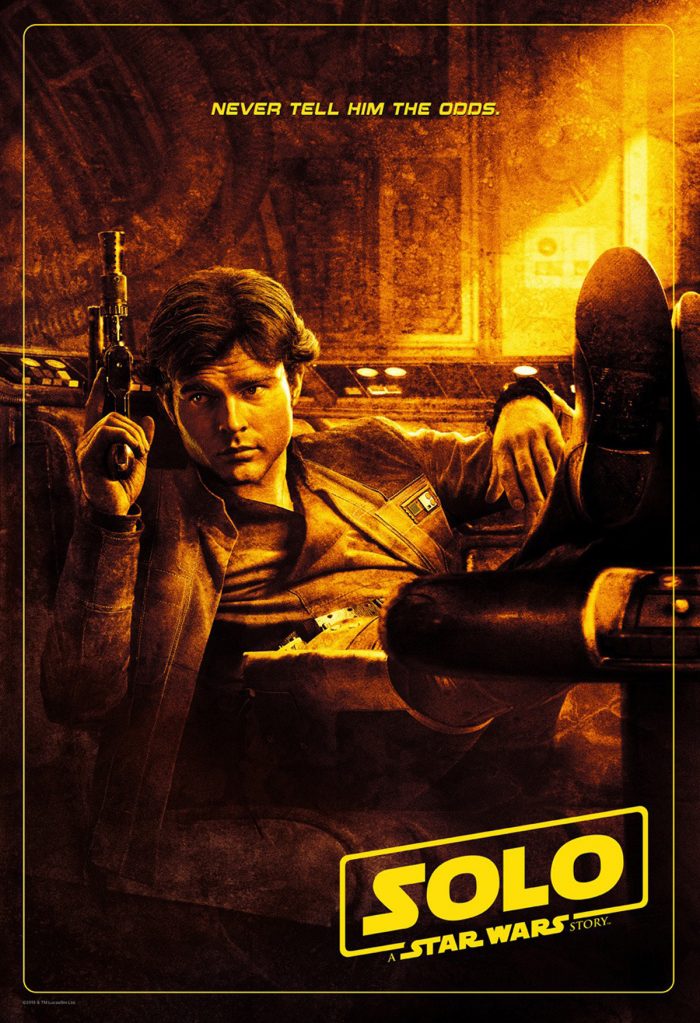 "Never tell him the odds," the poster reads, emphasizing the gambles that Han takes in his games, and in his life — trading his boring life in the Empire for a risky career on the other side of the law. But odds are that this film won't be boring in the least.
Directed by Ron Howard, Solo stars Alden Ehrenreich, Woody Harrelson, Emilia Clarke, Donald Glover, Thandie Newton, Phoebe Waller-Bridge, Joonas Suotamo, and Paul Bettany.
Solo: A Star Wars Story opens in theaters on May 25, 2018.
Board the Millennium Falcon and journey to a galaxy far, far away in "Solo: A Star Wars Story," an all-new adventure with the most beloved scoundrel in the galaxy. Through a series of daring escapades deep within a dark and dangerous criminal underworld, Han Solo befriends his mighty future copilot Chewbacca and meets the notorious gambler Lando Calrissian, in a journey that will set the course of one of the Star Wars saga's most unlikely heroes.