Margot Robbie Pitched The Harley Quinn Movie As An "R-Rated Girl Gang Film"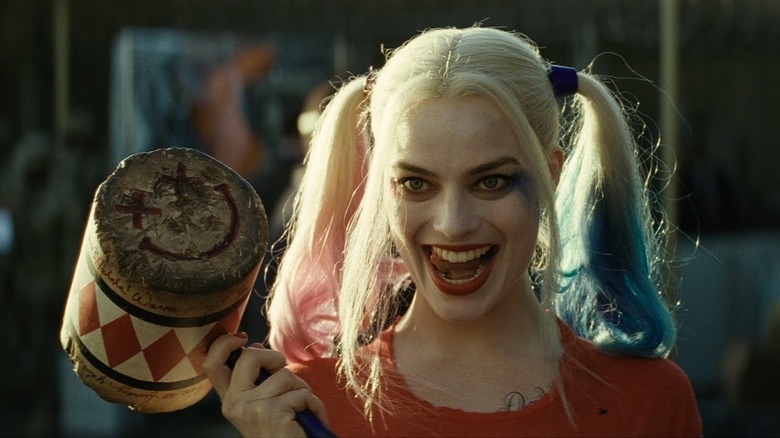 Harley Quinn has had a meteoric rise to the front of Warner Bros.' DC film slate, becoming the focus of three potential movie projects. And that's based solely off of Margot Robbie's splashy appearance in 2016's Suicide Squad — and the marketability of the character's striking costume to the Hot Topic crowd. But while the states of the character's potential spin-offs — the Joker and Harley Quinn movie, Gotham City Sirens — are still one big question mark, Robbie has been steadfastly pushing a Harley Quinn solo movie for the past few years.
But Harley might not be flying as solo as you would think.
Of all the Harley Quinn movie projects, it seems like the supervillain's solo movie is the one moving ahead. Warner Bros. recently tapped Cathy Yan to direct the Harley Quinn solo movie — which is not really a solo movie.
The project was reported to be inspired by Birds of Prey, the female-led team of heroes who protect Gotham City. The team usually consists of Black Canary, Barbara Gordon (Batgirl), and Huntress, but not Harley Quinn, who would more likely be the team's foe — though Suicide Squad showed a turning point for Harley from villain to antihero.
But the technicalities of Harley's villainy vs. heroism don't seem to matter to Robbie, as long as she has a group of strong women surrounding her. In an interview with Collider, Robbie gave an update on the Harley Quinn/Birds of Prey project, for which she had a clear vision since pitching it to Warner Bros. in 2015:
"I pitched the idea of an R-rated girl gang film including Harley, because I was like, 'Harley needs friends.' Harley loves interacting with people, so don't ever make her do a standalone film. She's got to be with other people, it should be a girl gang. I wasn't seeing enough girl gangs on screen, especially in the action space. So that was always a big part of it.
Girl gangs? R-ratings? I'm in — though that vision doesn't seem to jibe that much with the classic Birds of Prey team. Perhaps the film will combine the concepts of Birds of Prey with the still-in-development Gotham City Sirens, which would have featured more villainous characters. I for one would love to see Harley team up with her frequent comics and TV partner, Poison Ivy, in a Thelma and Louise-style film. But I wouldn't be mad about Harley leading a group of bloodthirsty superheroines.
Since rocketing to fame in 2013's Wolf of Wall Street, Robbie has been shrewd about the projects she's picked. Robbie is steadily becoming a formidable producer, and she's using her sway behind-the-scenes to form the all-female team behind the camera as well as in front of the camera. She added:
"And then of course having a female director to tell that story. And giving a female director the chance to do big budget stuff. They always get 'Here's the tiny little film'... I was like, 'I love action. I love action films. I'm a girl. What, are we meant to only like a specific thing'?" So it was a hugely important to find a female director for this, if possible. But at the end of the day — male, female — the best director gets the job and Cathy was the best director.
In addition to Yan, Robbie has been working with screenwriter Christina Hodson (Bumblebee) to develop the Harley Quinn movie. "I want to make a girl gang, R-rated film that Harley is a part of," Robbie explained to Moviefone, "And we started working on it from there."