Robert Downey Jr. Was Paid $10 Million For 8 Minutes Of 'Spider-Man Homecoming' And Other Hollywood Salary Info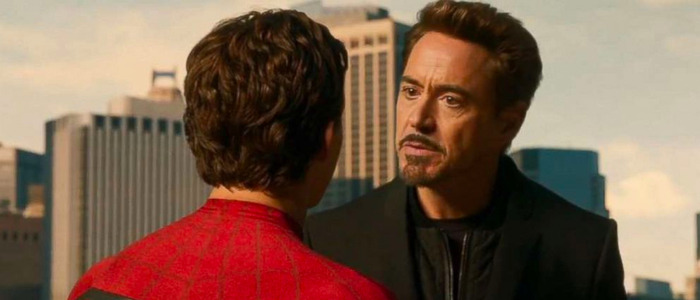 Robert Downey Jr. only appeared in Spider-Man: Homecoming for 8 minutes, but those 8 minutes were enough to net him a $10 million payday. If that seems like a lot to you, just wait till you learn how much money Dwayne "The Rock" Johnson is making for an upcoming film called Red Notice. Get the details on some Hollywood salaries below.
Hey, do you want to feel depressed? If so, kick back and see how much money movie stars are making! Variety has a story about some Hollywood star salaries, and there are some surprising revelations within. Here are a few highlights.
Robert Downey Jr.
If you were to clock Robert Downey Jr.'s time as Tony Stark/Iron Man in Spider-Man: Homecoming, it would come to about 8 minutes. But Marvel and Disney were dead-set on making sure those eight minutes happened. So much so that they plopped down a cool $10 million to get Downey Jr. to appear. One could argue that Downey Jr. is one of Marvel's biggest stars – his Iron Man launched the MCU, after all. So it makes a kind of sense to keep him happy with a nice paycheck, even if he's ultimately putting in a brief cameo appearance.
Dwayne Johnson
Dwayne "The Rock" Johnson is a superstar, and he's getting the paychecks to prove it. Universal won a huge bidding war to land the rights to Red Notice, an art heist movie that Johnson is attached to star in. That deal netted Johnson a $22 million dollar payment. Johnson is a shrewd businessman, and he's figured out that there's more to an actor than, well, acting. There's also a personal brand. As a result, Johnson has a $1 million social-media fee included in his package for Red Notice. That means Johnson gets $1 million just to help promote the film on his social media feeds, like Twitter and Instagram.
Chris Pratt and Bryce Dallas Howard
Chris Pratt and Bryce Dallas Howard both got big raises to return to the Jurassic franchise with Jurassic World: Fallen Kingdom. But ultimately, Pratt ended up with $2 million more than Howard. Per Variety, Pratt landed $10 million payday, while Howard got $8 million. I'm sure the case can be made that Pratt, who also cleans-up at the box office for his Marvel roles, is the bigger star. But it's still slightly frustrating to see that even though both Pratt and Howard are featured equally in all the marketing for the film, Pratt still ends up with more money in the end.
Patty Jenkins
One of the the biggest boosts in the Variety story goes to Wonder Woman director Patty Jenkins. Jenkins is taking home $9 million for Wonder Woman 2, which is three times the amount she made for the first Wonder Woman. Get that money, Patty.
Daniel Craig
The leader of Variety's list is James Bond himself, Daniel Craig. Craig is making $25 million for Bond 25. Before the actor officially became attached to the sequel, he did several interviews where it seemed like his Bond days were over. Apparently, producers were so determined to get Craig back for one more go around as Bond that they were willing to give him a hell of a paycheck.