Comcast May Derail Disney And Fox Deal With New All-Cash Offer [Updated]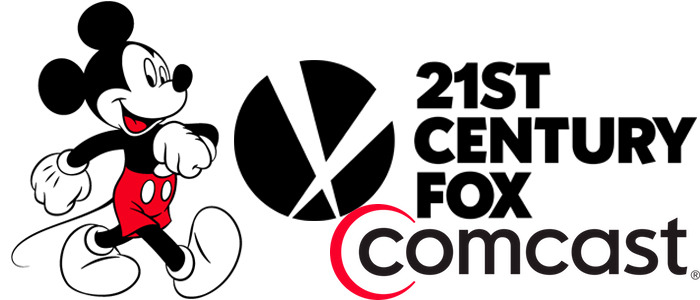 First they make you wait on hold for hours when you call about your cable service, then they try to destroy the Disney/Fox deal. What will those fiends at Comcast do next? A new report reveals Comcast is preparing to offer an all-cash bid for Fox, which would likely muddy the waters of the huge Disney-Fox deal. Ruh-roh.
Update: Disney CEO Bob Iger has weighed-in on the Comcast news, and he clearly doesn't seem very worried. In an interview with CNBC, Iger said:
"We made a good deal, actually a deal that shareholders reacted quite favorably to and we're going to remain confident in our ability to close."
The original story continues below.
Remember the big Disney/Fox deal? The deal that could possibly turn Disney into an unstoppable movie monopoly machine (and, yes, also let Deadpool hang out with the Avengers)? We all thought it was a done-deal, but apparently not! Per Reuters:
U.S. cable operator Comcast Corp is asking investment banks to increase a bridge financing facility by as much as $60 billion so it can make an all-cash offer for the media assets that Twenty-First Century Fox Inc has agreed to sell to Walt Disney Co for $52 billion, three people familiar with the matter said on Monday.
Comcast has been gunning for Fox before the Disney deal even came in place, and rather than back off after "Disney Chief Executive Bob Iger clinched an all-stock deal with Fox Executive Chairman Rupert Murdoch in December to acquire Fox's film, television and international businesses", Comcast has continued to pursue their options. Earlier this year, Comcast topped Fox's bid to buy British satellite broadcaster Sky, which could result in Fox paying more for Sky, or Disney losing a valuable property to Comcast.
And now this. A lot is riding on the U.S. government (hey, good luck with that!). If the U.S. government approves AT&T's acquisition of Time-Warner, Comcast will make an all-cash bid of $60 billion for most of Fox's assets. This would top Disney's $52 billion offer. But if you're really caught up in the machinations of billionaires, don't fret just yet: there's still a lot up in the air. First, Comcast needs to get their hands on all that money. Second, there's no indication that Fox would suddenly go for this deal. Comcast actually outbid Disney once before, but Disney ultimately sweetened the deal by agreeing to pay $2.5 billion should things fall apart – something Comcast wasn't willing to do.
On top of that, there's the fact that the Department of Justice has opposed the AT&T-Time Warner deal, citing antitrust concerns. If a federal judge rules against AT&T's $85 billion acquisition of Time Warner, Comcast is going to give up on this entire idea and back away. A decision on that court case is expected to arrive in June. In other words, let's just wait and see what happens.