'The Hitman's Bodyguard' Is Getting A Sequel Titled 'The Hitman's Wife's Bodyguard'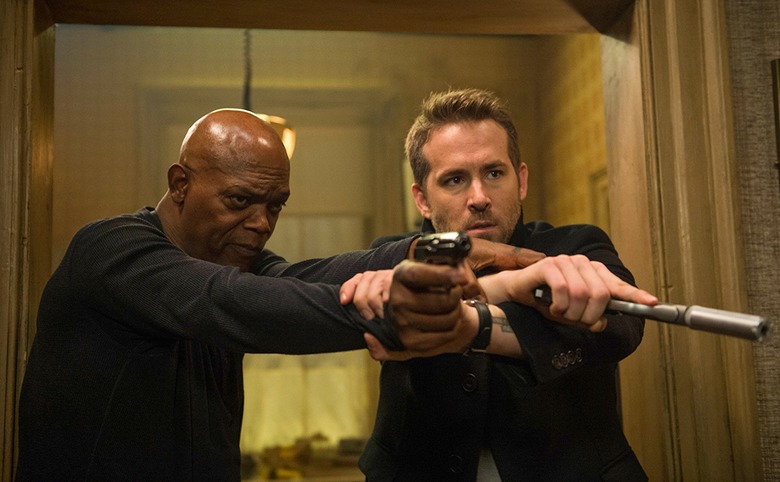 Here's your most eagerly anticipated news to come out of the prestigious Cannes Film Festival: The Hitman's Bodyguard is getting a sequel! And it's got an even clunkier title to boot!
A Hitman's Bodyguard sequel is in the works with the focus turning from the dynamic duo of Samuel L. Jackson and Ryan Reynolds to Salma Hayek's character in a film titled The Hitman's Wife's Bodyguard.
Millennium Films announced the development of a Hitman's Bodyguard sequel titled The Hitman's Wife's Bodyguard at Cannes this week, according to The Hollywood Reporter.
According to THR, the sequel is being touted on posters in Cannes as "coming soon" alongside other major action-heavy franchise titles, including Angel Has Fallen, The Expendables 4, Rambo V, and Mechanic 3. 
No script for the sequel is ready yet, but the Cannes market catalogue describes The Hitman's Wife's Bodyguard as "The Good. The Bad. And the Batshit cray." That falls in line with the dark comedy-heavy marketing for The Hitman's Bodyguard — the only thing I'll admit I've seen of the starring vehicle for Jackson and Reynolds.
But apparently I'm in the minority, because The Hitman's Bodyguard did gangbusters at the box office when it hit theaters last summer. Made on a modest $30 million budget, The Hitman's Bodyguard went on to top the U.S. box office for three straight weeks and earn an worldwide haul of $177 million. Pretty good for a movie that seemed to skate by largely on the residual hype from Reynold's tongue-in-cheek turn in 2016's Deadpool.
Reynolds and Jackson are believed to reprise their roles in The Hitman's Wife's Bodyguard, according to THR. However, Hayek's return is uncertain, despite the title being ostensibly about her character, who was married to Jackson's titular hitman. The original film also starred Gary Oldman, Elodie Yung, Joaquim de Almeida, and Kirsty Mitchell.
The script for The Hitman's Wife's Bodyguard will be penned by The Hitman's Bodyguard screenwriter Tom O'Conner while Patrick Hughes is expected to return as director.