'Solo: A Star Wars Story' TV Spots Let Dryden Vos Speak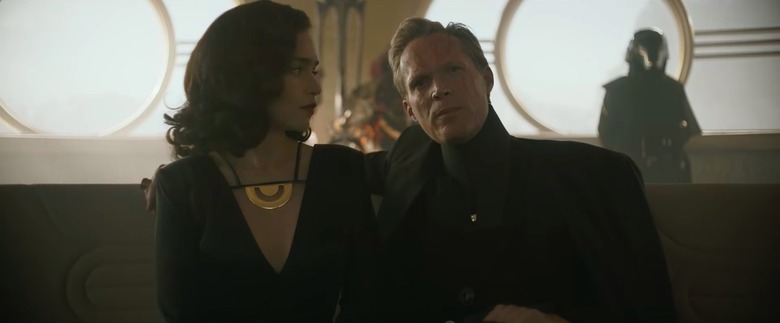 If you were wondering when Paul Bettany's sexy space gangster was going to speak, you're in luck. The latest TV spots for Solo: A Star Wars Story have his intimidating Dryden Vos virtually running his mouth off — at least compared to his appearances in the last few spots and trailers for the Star Wars standalone film.
A new TV spot and an international trailer have been released just a few weeks before Solo is set to hit theaters. And while most of the footage is familiar, the spots do give a bigger spotlight to Dryden Vos, the dangerous sponsor of the illegal heist that Han Solo finds himself joining.
Solo TV Spots
Dryden Vos is a crime lord who, for the most part, has been hidden away from the Solo promotional materials and trailers. Originally set to be played by Michael K. Williams, Bettany stepped into the slick and sinister role for the Solo reshoots. And with his facial scar and dulcet, British-accented tones, he looks every part the intimidating villain a Star Wars baddie should be.
"You'll need an incredibly fast ship. And a brilliant pilot," he says in the TV spot, probably to Woody Harrelson's Tobias Beckett, the leader of the team pulling off the heist.
Han is more than eager to step up to the challenge of being that brilliant pilot, cocksurely declaring, "We've got the pilot."
Here is the official synopsis for Solo: A Star Wars Story:
Board the Millennium Falcon and journey to a galaxy far, far away in Solo: A Star Wars Story, an all-new adventure with the most beloved scoundrel in the galaxy. Through a series of daring escapades deep within a dark and dangerous criminal underworld, Han Solo meets his mighty future copilot Chewbacca and encounters the notorious gambler Lando Calrissian, in a journey that will set the course of one of the Star Wars saga's most unlikely heroes.
Solo: A Star Wars Story opens in theaters on May 25, 2018.