'Solo' Sequels Will Probably Happen If 'Solo: A Star Wars Story' Is A Hit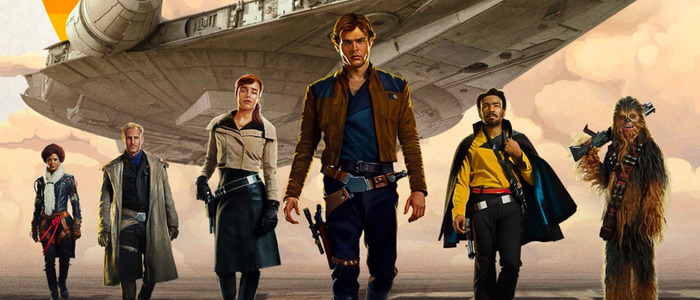 Ron Howard has confirmed something you probably could've guessed for yourself: if Solo: A Star Wars Story breaks the bank at the box office, get ready for some Solo sequels. Star Alden Ehrenreich previously confirmed he signed for multiple Star Wars films when he took the lead in Solo.
In this world, nothing can be said to be certain, except death, taxes and Star Wars sequels. Sitting down Fandago, Solo: A Star Wars Story director Ron Howard dropped some info that you likely already surmised: Solo sequels are definitely a possibility, box office willing. Howard stressed that at the moment, there aren't any definite plans for Solo sequels. But if the audience reaction to the film is big enough, you can expect Disney and Lucasfilm to start making plans:
"I think the fans are going to define all of that. I mean I think that Lucasfilm and Disney in casting actors, and particularly younger actors, want to see what happens and build upon that. Certainly, they want the commitment from the young actors, but there are no concrete plans. I think there's been a lot of creative energy and now marketing energy going behind this movie."
Howard also says that while the Star Wars Anthology films have (so far) been stand-alone movies, sequels aren't out of the question. "I think [Disney and Lucasfilm are] going to be very interested to see how people respond to it and take it from there," the director said, "This whole thing is kind of a cool, ambitious exploration of what the galaxy and the Star Wars sensibility can continue to mean to fans."
A sequel to the previous Star Wars Anthology film Rogue One: A Star Wars Story wouldn't have made much sense, for two reasons. One (spoilers): everyone dies at the end. Two: a sequel already exists. It's called Star Wars. After all, Rogue One ends almost seconds away from the beginning of the first Star Wars film.
A sequel to Solo, however, might work. The film is set a full decade before the events of Star Wars: A New Hope, which means there's still room for further adventures of young Han Solo. Young Han Solo himself, Alden Ehrenreich, recently confirmed as much. The actor confirmed that he signed for a total of three films, which means he's contracted to do at least two more movies set in the Star Wars universe. Of course, it's worth noting that Rogue One actress Felicity Jones said she had signed a contract to appear in a Rogue One sequel as well, and yet that will probably never happen.
That said, if you want more solo Han Solo adventures, you're going to have to help Solo at the box office.