How 'Solo: A Star Wars Story' Was Inspired By 'Rush' And 'Bullitt'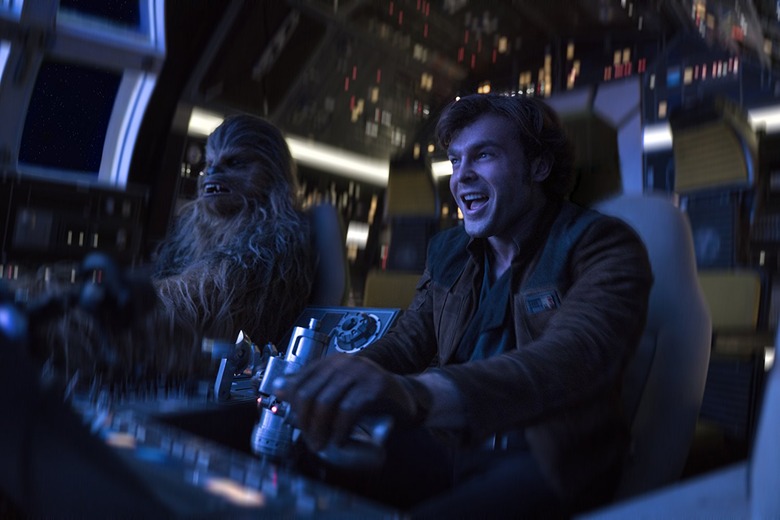 Star Wars by nature is an amalgam of cinematic inspirations. So it's no surprise that the franchise's newest standalone film has some homages of its own. Ron Howard's Solo inspirations range from crime movie classics to his very own racing movie. The director of Solo: A Star Wars Story revealed the movies that went into making the latest Star Wars anthology film.
Howard gave a wide-reaching interview with Fandango, which quizzed the director about the inspirations that went into making Solo: A Star Wars Story.
Billed as a Star Wars take on the crime movie, Solo: A Star Wars Story is rife with slick car chases and stylish heists. When Fandango asked Howard if he watched any movies beforehand to help prep for Solo, Howard revealed, "Bullitt was helpful. I know Jon Kasdan talks a lot about the movie Heat, which is of course a great heist movie."
That goes along with Kathleen Kennedy's early descriptions of Han's origin story as both a Western and a heist film. The heist takes a prime role in the film, with Han (Alden Ehrenreich) beginning a life of crime after he joins up with professional criminal Tobias Beckett (Woody Harrelson). But the classic heist movie isn't the only cinematic inspiration going into this movie. Han's character is largely rooted in screenwriter Larry Kasdan's hugely influential movies like Raiders of the Lost Ark, Howard described:
Well, he's forming, and that's partly what's so rewarding and gratifying about the story and the script written by Larry and Jon Kasdan. Of course, Larry has written both for Han Solo and also Indiana Jones, Raiders of the Lost Ark, which is in a way an offshoot of that character, of the Han character.
But one last inspiration that Howard pulled one is unexpected: his own movie. Howard said that making Rush, the high-octane biopic about the tense rivalry between Formula 1 drivers James Hunt and Niki Lauda in the '70s that starred Chris Hemsworth and Daniel Bruhl, played a huge part in making Solo. Specifically, with Han's relationship to his iconic spacecraft, The Millennium Falcon:
Han's own relationship with the Falcon is really interesting to me. I thought a lot about what I learned about Formula One racers and other professional race car drivers and their relationship to specific vehicles. You get the right driver with the right car and the right setup and suddenly they're champion material. I learned a lot from the movie Rush, and I thought a lot about the James Hunt character played by Chris Hemsworth, as we were staging and shaping both the action and also Han's character and his aptitude as a pilot.
Solo: A Star Wars Story hits theaters on May 25, 2018.