The Monty Python Musical 'Spamalot' Is Being Made Into A Movie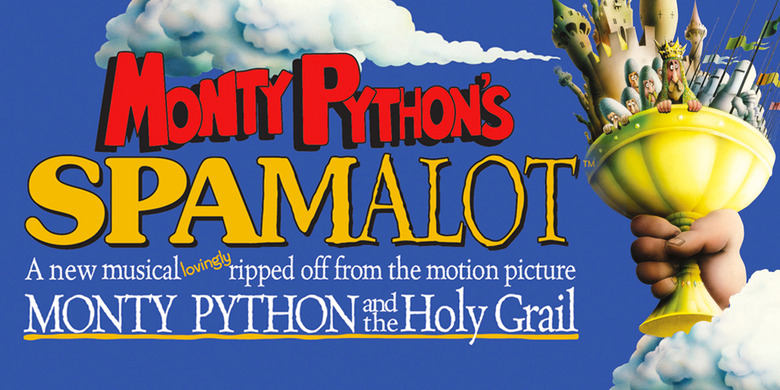 Always look on the bright side of life, because a Spamalot movie is on its way. 20th Century Fox has fast-tracked the development of a Spamalot movie, bringing the Monty Python Broadway musical adaptation of Monty Python and the Holy Grail to the big screen. This story is not yet, and never will be, dead.
Fox has tapped original Python member Eric Idle, who wrote the book for the stage play, to pen the script and Casey Nicholaw to direct the Spamalot movie, according to Deadline.
Nicholaw is the director of the Broadway adaptation of Mean Girls, for which he's up for Best Director and Best Choreography at the Tony's. Additionally, Nicholaw was the original choreographer for Spamalot when it first came to Broadway under the direction of Mike Nichols in 2005. Idle will produce in addition to writing.
This will be the second time this comedic take of the legend of King Arthur will grace the big screen under the banner of Monty Python. Spamalot is a musical twist on the 1975 film Monty Python and the Holy Grail, albeit with a few new characters and musical numbers added (and sadly, fewer jokes about coconuts). But astonishingly, Spamalot is a hilarious and wholly independent iteration of The Holy Grail, gaining a passionate following of its own. The musical took Broadway by storm and became one of the most popular stage musicals in recent years, making an initial run of 1,500 performances and seeing several worldwide revivals since then. The original run received 14 Tony Awards nominations and won in three categories, including Best Musical.
Deadline was told by sources, "It's more than just an adaption, it's the movie musical based on the Broadway musical, based on a movie that is based on the legend."
As a fan of both Spamalot and Monty Python and the Holy Grail, I cannot wait to see this version on the big screen. It's decidedly more fleshed out than the 1975 film, with the humor broadened for wider audiences rather than some of the niche, surrealist comedy of the original film. And best yet, we'll be getting theatrical versions of the hysterically funny songs from Spamalot, like "Not Dead Yet."