'Deadpool 2' Clip: Accidental Double Entendres And Well-Staged Action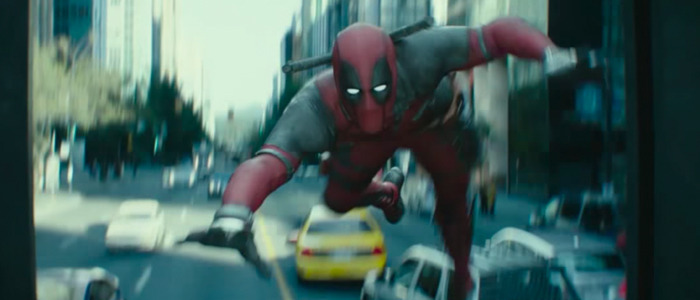 Zazie Beetz, who plays Domino in 20th Century Fox's highly-anticipated Deadpool 2, was a guest on Jimmy Kimmel Live last night, and she brought a new clip from the movie to the show with her. The clip shows off a car chase sequence with Cable (Josh Brolin) hot on Domino's tail and Deadpool (Ryan Reynolds) trailing behind on a moped.
Deadpool 2 Clip
The 30-second clip features Domino dropping in to take over the driver's seat of a big rig carrying a mutant played by Julian Dennison (Hunt for the Wilderpeople). Deadpool, bringing up the rear on a small moped, weaves through traffic and explains in comically inappropriate ways that Cable (who's trying to kill the child mutant) is entering the vehicle from behind. I half-expected an animated Sterling Archer to pop out and ask, "Are we still doing phrasing?"
We saw some pieces of this scene chopped up in the most recent Deadpool 2 trailer, which I thought was a little chaotic. But seeing the actual sequence edited here (presumably as it'll appear in the movie) makes me feel far more confident in the action of this film. Deadpool 2 is directed by David Leitch, one of the stuntmen-turned-filmmakers behind the first John Wick and the solo director of last year's Atomic Blonde, and the pacing and staging of this scene makes me breathe a small sigh of relief about the direction of this sequel.
Deadpool 2 already seemed like it was going to look better than the first movie (which was directed by visual effects artist and first-time filmmaker Tim Miller), and I'm personally hoping this one is funnier than the first entry, too. Now that everyone knows exactly what Deadpool's schtick is, it's going to be slightly more challenging for writers Rhett Reese and Paul Wernick to come up with jokes that clear that bar. But as long as they continue to undercut superhero movie conventions – like Deadpool not reaching the big rig at the end of this clip and crashing to the street instead – there should be a lot to like about this sequel.
Here's the film's official synopsis, which actually has nothing to do with the movie:
After surviving a near fatal bovine attack, a disfigured cafeteria chef (Wade Wilson) struggles to fulfill his dream of becoming Mayberry's hottest bartender while also learning to cope with his lost sense of taste. Searching to regain his spice for life, as well as a flux capacitor, Wade must battle ninjas, the yakuza, and a pack of sexually aggressive canines, as he journeys around the world to discover the importance of family, friendship, and flavor – finding a new taste for adventure and earning the coveted coffee mug title of World's Best Lover.
Deadpool 2 hits theaters on May 18, 2018.