'Solo: A Star Wars Story' Box Office Tracking Suggests A Record-Setting Memorial Day Weekend Haul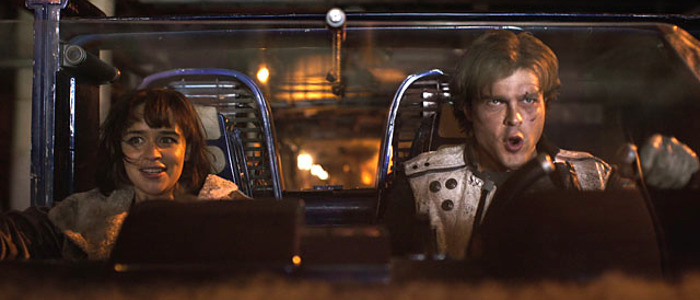 We know general audiences are interested in the ongoing Star Wars saga movies, but will they be willing to dip back into a galaxy far, far away for the origin story of one of the franchise's most recognizable characters? Solo: A Star Wars Story arrives in theaters later this month, and projections are already rolling in for how the film will perform at the box office. Spoiler alert: it's probably going to do pretty well. So well, in fact, that could even top Memorial Day box office records.
Keep reading for the latest Solo box office tracking numbers.
Deadline got its hands on industry projections (not Disney's internal projections) for Solo's opening weekend, and they say the movie could pull in more than $170 million domestically across its Friday-Monday opening weekend. There's an extra day in the mix because that Monday is Memorial Day, so the numbers are higher than a comparable non-holiday release's would be. And keep in mind that it's still early in the month, and these projections could change as the release approaches and Disney drops more cash on getting the word out.
To give a sense of what a $170 million opening three days would look like, Deadline points out that the current two highest Memorial Day openings belong to Pirates of the Caribbean: At World's End ($139.8M) and Indiana Jones and the Kingdom of the Crystal Skull ($126.9M). If its early tracking numbers hold, Solo will easily blow past them both. Granted, it'll be nowhere near the record-breaking opening weekend of Avengers: Infinity War, but I don't think that'll be topped by anything other than another Avengers movie any time soon.
It's more interesting to look at these projections alongside what other Star Wars films earned during their opening weekends. Not factoring in inflation, it'll be leagues above every film in the original trilogy and the prequel trilogy. But in terms of its contemporaries, Solo's projected $170 million opening will put it above Rogue One's $155 million, but well below The Last Jedi's $220 million and below The Force Awakens' $247 million.
Solo: A Star Wars Story stars Alden Ehrenreich as the titular smuggler, Joonas Suotamo as Chewbacca, Donald Glover as Lando Calrissian, Phoebe Waller-Bridge as L3-37, Woody Harrelson as Tobias Beckett, Emilia Clarke as Qi'ra, Thandie Newton as Val, Paul Bettany as Dryden Vos, and Jon Favreau as Rio Durant. It's directed by Ron Howard, and written by Lawrence Kasdan and Jon Kasdan.Solo: A Star Wars Story arrives in theaters on May 25, 2018.