Pop Culture Imports: Netflix's Most Relatable Anime, An Irreverent Israeli Comedy, And The Superhero Movie Antidote To 'Infinity War'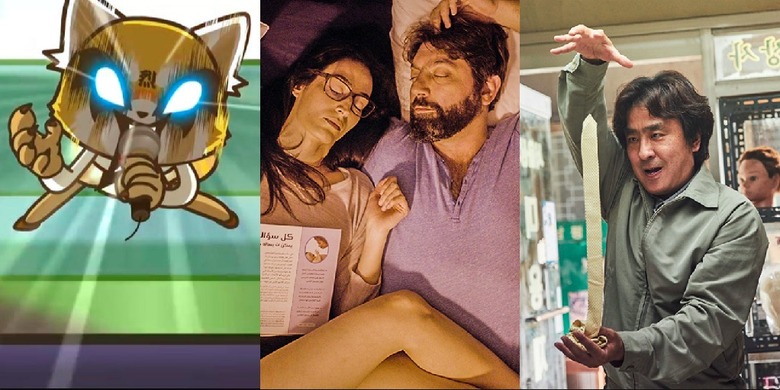 (Welcome to Pop Culture Imports, a column that compiles the best, wackiest, and weirdest foreign-language movies and TV shows streaming right now.)
It looks like summer may finally be peeking out from behind the clouds — and you know what that means. It's time to take refuge indoors as the weather becomes unbearably hot. And what better to watch on a warm summer day than a few foreign-language movies and TV shows?
In this week's Pop Culture Imports, we have Netflix's adorable anime about a death metal-loving red panda that has taken the internet by storm, a surreal Israeli religious comedy, a heartbreakingly human superhero movie from the director of Train to Busan, a Brazilian dystopian thriller series, and a Bollywood-inspired retelling of Pride and Prejudice.
1. Aggretsuko – Netflix
Country: JapanGenre: Anime seriesDirector: RarechoCast: Erica Mendez, Josh Petersdorf, Katelyn Gault, Ben Diskin, G.K. Bowes, Tara Platt.
At first, the premise of Netflix's cutesy new anime Aggretsuko sounds like a gimmick to sell toys. And that ordinarily wouldn't be too far from the mark — Aggretsuko was created by Sanrio, the Japanese mascot company behind Hello Kitty and more recently, the delightfully depressed egg, Gudetama. But the adorable anime series quickly proves that its story, which follows an adorable red panda who loves death metal, transcends its merchandise-friendly roots.
Aggretsuko is about Retsuko, a bright-eyed and bushy-tailed red panda who begins her first office job fresh out of university — only to twist her ankle on the way to work. Flash forward to five years later, and Retsuko is a downbeat, cynical, and frustrated office drone who navigates her oppressive corporate lifestyle by venting out her frustrations every night through death metal karaoke. "Selling my soul/a corporate slave/wage laborer!" she screams in a demonically deep voice as her soft, round features contort into a mask of rage.Aggretsuko, which is a portmanteau of "aggressive" and "Retsuko," is a cathartic, hugely enjoyable series about the pitfalls of office life. Retsuko deals with the nuisances that everyone who's held down a tedious office job would be familiar with: the chauvinist boss (who is literally depicted as pig), the doe-eyed office flirt, the gossiping hippo, and all the brown-nosers and hateful superiors who force her to do menial tasks. But while death metal is simply an outlet at first for the mild-mannered Retsuko, the music — and her close network of friends — soon help her embrace her feminist rage.
Because Aggretsuko is not only an insightful portrait of work culture, but an ode to female empowerment. Retsuko's sweet outward appearance is a nod to the feminine ideals that women in the workplace find themselves pressured to be, forcing down their anger and frustration at the daily sexism they face,  particularly in Japan. But Aggretsuko takes a progressive stance, encouraging its title character — and to an extent, all women —  to consolidate those two personas, and accept themselves for who they are. And maybe to rock out to death metal every now and then.
Watch This If You Like: Office Space, Bojack Horseman, Hello Kitty, singing Babymetal songs at karaoke.
2. Holy Air – Amazon Prime
Country: IsraelGenre: ComedyDirector: Shady SrourCast: Shady Srour, Laetitia Eido, Samuel Calderon, Tarik Kopty, Dalia Okal, Byan Anteer.Holy Air turns its focus to a part of Israel we haven't seen much before: the comedic side. Directed by and starring Shady Srour in his second feature film, Holy Air is a melancholic, deadpan comedy about a beleagured entrepeneur, Srour's Adam, who is hit with the news that his wife Lamia (a fiercely funny Laetitia Eido) is pregnant. Faced with the steep costs of child care and the cancer diagnosis of his proud father (Tarik Kopty), Adam falls into a funk — unsure about his place in a brutal, highly politicized world where his community of Arab Israeli Christians are a fast-vanishing minority. But one day, while getting high in his car near Nazareth's religious tourist destination, Mount Precipice, Adam is hit with an epiphany for a huge money-making scheme: selling holy air from the mountain to unsuspecting tourists.
This slightly surrealist comedy is sprinkled with wacky and ridiculous moments — Adam is attacked by a man with a sword in a bout of road rage, bagpipe bands wander in and out of frame — set to backdrop of the constant political strife of Israel. Holy Spirit never lets you forget about the harsh world that Adam and Lamia are bringing their child into, but the film always brings moments of levity to balance out the crushing reality of Israel's wartorn state and Adam's emotionally fraught family life. A funny, frank portrait of a disillusioned family man, and a wry commentary on religious tourism, Holy Spirit is a must-watch.
Watch This If You Like: The Brothers Bloom, Being John Malkovich, Saved!, buying tourist knick-knacks on the road.
3. Psychokinesis – Netflix
Country: South KoreaGenre: ActionDirector: Yeon Sang-hoCast: Ryu Seung-ryong, Shim Eun-kyung, Park Jung-min, Kim Min-jae, Jung Yu-mi.
If you're experiencing major superhero movie fatigue after Avengers: Infinity War, turn your eyes instead to this small, family-driven superhero story that was quietly released on Netflix last week. Directed by Yeon Sang-ho, whose breakout zombie hit Train to Busan made him one of the hottest Korean directors today, Psychokinesis follows a deadbeat dad, Seok-heon (Ryu Seung-ryong), who gets pulled back into his estranged daughter's life after her mom is killed in a scuffle with the contractors of a mob-run construction company. His daughter, Shin Roo-mi, was a successful owner of a fried chicken shop until the sinister company forcibly took over the market area, planning to evict the tenants to build a shopping mall for Chinese tourists. Just before he attends Roo-mi's mother's funeral, Seok-heon drinks water from a mountain spring that was hit by a meteor, giving him telekinetic powers. At first he plans to make a profit off his powers as a local magician, but seeing Roo-mi's plight, he takes up the mantle as the superpowered savior of the embattled market tenants.
Psychokinesis is a kinetic, heartfelt superhero action film that expertly mixes tragedy, comedy, and straight-up slapstick. There's none of the bombast of Hollywood comic book tentpoles nor the moody anti-action of alternative superhero indies. Rather, Psychokinesis plays out like a classic martial arts film, blocking and staging the fight scenes like a balletic dance. It's reminiscent of early Jackie Chan movies, with the physical comedy taking as prominent a role in the battle scenes as the fights themselves. But the appeal of Psychokinesis is not in its action set pieces (which boast some fairly impressive CGI) but in the tender story of fatherly love and sacrifice. Like in Train to Busani, Yeon returns to the theme of family becoming one's identity and saving grace, and magnifies it tenfold in Psychokinesis. Psychokinesis is the superhero movie with deep emotional stakes that you were waiting for.Watch This If You Like: Chronicle, Hancock, Super, tentpole superhero movie fatigue.
4. 3%: Season 1 & 2 – Netflix
Country: BrazilGenre: Sci-fi seriesCreator: Pedro AguileraCast: João Miguel, Bianca Comparato, Michel Gomes, Rodolfo Valente, Vaneza Oliveira, Rafael Lozano, Viviane Porto, Samuel de Assis, Cynthia Senek, Laila Garin, Bruno Fagundes, Thais Lago.
Brazil keeps churning out hit series after hit series, and the highly anticipated 3% is no exception. Netflix just released the second season of the science-fiction dystopian thriller series, but you can and should catch up on the first season while you're at it. 3% is set in a future wherein the affluent and the poor are starkly divided in the idyllic Offshore and in the impoverished Inland. But every year, the young adults in the Inland are given a once-in-a-lifetime chance to move to the "better side" through something called The Process, an intensive screening which selects only 3% of the candidates for the exclusive journey. Naturally, large factions of the Inland are dissatisfied with the highly selective Process, and have been building up a revolutionary Cause to fight the system.
It's a pretty standard premise for a sci-fi series, but 3% offers a gripping ride. Think if The 100, Snowpiercer, and The Hunger Games had a post-apocalyptic baby and you have 3%. It's got the sexy young 20-somethings of The 100, the class battles of Snowpiercer, and the high-concept rituals of The Hunger Games, but 3% is more than just a pastiche. Compelling characters and intriguing action keep the series going, and season 2 more than lives up to its promising first season.
Watch This If You Like: The 100, Snowpiercer, The Hunger Games, beautiful young people fighting against the machine.
5. Bride and Prejudice – Hulu
Country: India, U.K.Genre: Romantic-comedyDirector: Gurinder ChadhaCast: Aishwarya Rai, Martin Henderson, Daniel Gillies, Nadira Babbar, Anupam Kher, Naveen Andrews, Indira Varma, Namrata Shirodkar, Sonali Kulkarni.Bride and Prejudice wears its inspiration on its sleeves — and on its totally cheesy title. An adaptation of the classic Jane Austen novel Pride and Prejudice, Gurinder Chadha's (Bend it Like Beckham) Bollywood-inspired version is a surprisingly deft examination of Indian class conflicts and culture shock. Aishwarya Rai dazzles as Lalita Bakshi, the Elizabeth Bennet stand-in who lives in the provincial Amritsar with her parents and three younger sisters. We've all read the book and/or seen the multiple adaptations, so we know what happens next: Lalita meets the arrogant Will Darcy (Martin Henderson), a handsome and rich American thrown off by India's strange and colorful customs. Will and Lalita initially clash, but it takes a wedding, a con man, and a runaway sister to get them to see eye-to-eye.Bride and Prejudice is the epitome of a guilty pleasure: saccharine and a little silly, with a third act that goes a little off the rails. But it's buoyed by the charm of its leads, particularly Rai, one of Bollywood's biggest movie stars and the shining light of this movie. It's a fun adaptation, and a must-see for any Austenite. I guarantee you'll have "No Life Without Wife" stuck in your head for days after.Watch This If You Like: Pride & Prejudice, the BBC miniseries Pride and Prejudice, Bridget Jones' Diary, any Jane Austen adaptation, seeing Sayid from LOST dance and sing to a Bollywood song.