Live-Action 'Dora The Explorer' Movie Recruits 'Transformers' Star Isabela Moner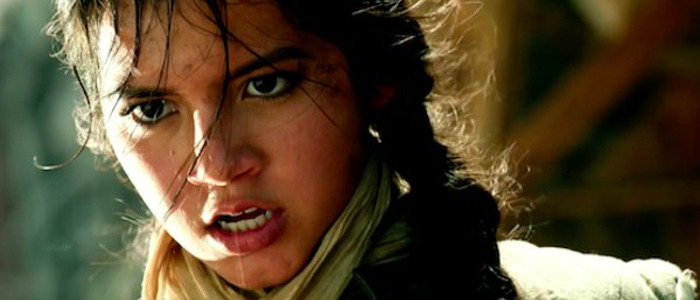 The live-action Dora the Explorer movie has founds its lead: Isabela Moner, who appeared in Transformers: The Last Knight, will play the children's television character, who has grown into a teenager in the film.
We first reported on the live-action Dora the Explorer movie last year, when it was announced that Paramount and Michael Bay's compnay Platinum Dunes would produce the movie. Now, the film has found its Dora: Isabela Moner. Moner appeared in Transformers: The Last Knight, and can next be seen in the Sicario sequel Sicario: Day of the Soldado. 
Moner released the following statement (via THR) about her casting:
 "I'm honored and excited to bring Dora to life. I grew up watching the show, and for me, especially as a Latina, Dora was an amazing role model — she is a strong, adventurous and fun-loving girl. I can't wait to put on the backpack and begin her next adventure!"
Dora was a seven-year-old girl in the animated series that spawned the character, but she'll be a teenager for the live-action movie. Like the show, Dora will embark on a series of adventures, accompanied by her cousin Diego and her friend Boots the monkey. The original Dora the Explorer ran on Nickelodeon from 2000 to 2014, airing a total of 172 episodes.
A film adaptation of Dora has been in the works since at least 2015 when a live-action take on the material was announced with Puss in Boots screenwriter Tom Wheeler set to pen the film. The project never came to pass. Now, James Bobin, who directed The Muppets and Muppets Most Wanted, will helm the film. He'll be re-teaming with Muppets and Muppets Most Wanted writer Nick Stoller, who penned the Dora script with New Girl writer Danielle Sanchez-Witzel.
"We are thrilled to have found our Dora in Isabela," said Paramount Players President Brian Robbins. "Dora has long been a celebrated, strong heroine in animated television, and like Dora, Isabela has an incredible spirit and is an advocate for positive values. With our partners at Nickelodeon, we look forward to continuing Dora's story for generations to come."
While Moner has a history of working with Michael Bay from Transformers, and Bay's production company Platinum Dunes is producing Dora the Explorer, Bay himself will have no involvement with the production. Sorry to everyone who was hoping for an explosion-filled, 360-degree spinning camera, Michael Bay-inspired Dora the Explorer movie.
Dora the Explorer movie is going to start shooting in Australia soon, with a planned release date of August 2, 2019.