Netflix's 'Sabrina' Is Officially Titled 'Chilling Adventures Of Sabrina'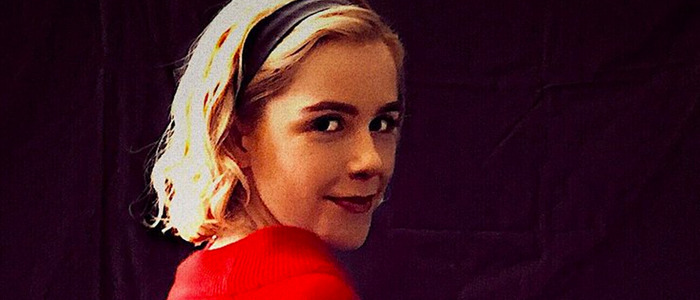 Netflix's Untitled Sabrina Project now has a title: Chilling Adventures of Sabrina. The show will be an adaptation of the Archie Comics series of the same name, adapted from the classic Sabrina the Teenage Witch comics. More on the Chilling Adventures of Sabrina show below.
Netflix has finally given a name to their horror-centric update of Sabrina the Teenage Witch, and what a familiar name it is. Chilling Adventures of Sabrina is the official title of the upcoming series, which stars Mad Men actress Kiernan Shipka as teenage witch Sabrina Spellman. Roberto Aguirre-Sacasa, Chief Creative Officer of Archie Comics, announced the title on Twitter, and provided our first official (non-set pic) look at Shipka in costume.
It's official! "Chilling Adventures of Sabrina" is our title! Something wicked this way comes...@kiernanshipka #incredible #netflixsabrina pic.twitter.com/OUdF9xMM0N

— RobertoAguirreSacasa (@WriterRAS) May 2, 2018
This title makes a lot of sense, since the show appears to be a direct adaptation of the Chilling Adventures of Sabrina comic series. Unlike the original Sabrina the Teenage Witch and the 1990s Sabrina the Teenage Witch sitcom that starred Melissa Joan Hart, both the comic and the Netflix series Chilling Adventures of Sabrina takes a dark, horror-centric approach to the material. Here's the synopsis for the comic series.
On the eve of her sixteenth birthday, the young sorceress Sabrina Spellman finds herself at a crossroads, having to choose between an unearthly destiny and her mortal boyfriend, Harvey. But a foe from her family's past has arrived in Greendale, Madame Satan, and she has her own deadly agenda.
Chilling Adventures of Sabrina was originally planned as a spin-off of the dark-ish Archie-inspired series Riverdale, with the intent that Sabrina as a character would debut on that show before spinning-off onto her own CW series. Then Netflix came calling, and plans to cross-over the shows dried up.
As a horror fan, I'm very excited about this show. The thought of a horror-inspired series like this instantly gets my attention, and casting Shipka in the lead is a smart move. While she's primarily known for her part as Sally Draper on Mad Men, Shipka also appeared in the chilly, under-seen horror film The Blackcoat's Daughter, and she turned in a very good, very unsettling performance. While Riverdale appears to be a bit more campy, it looks like Chilling Adventures of Sabrina is going for a more serious tone, and I'm all for that. The title alone suggests this is going to be primarily a horror-based series, and that's exciting.
When the project was first announced, Netflix described it as "a dark coming-of-age story that traffics in horror, the occult and, of course, witchcraft. Tonally in the vein of Rosemary's Baby and The Exorcist, this adaptation finds Sabrina wrestling to reconcile her dual nature — half-witch, half-mortal — while standing against the evil forces that threaten her, her family and the daylight world humans inhabit." A TV series that's like Rosemary's Baby and The Exorcist? Yes, I will watch the hell out of this.
In addition to Shipka, Chilling Adventures of Sabrina stars Jaz Sinclair, Michelle Gomez, Chance Perdomo, Lucy Davis, Miranda Otto, Richard Coyle, Ross Lynch, and Tati Gabrielle. Look for it some time in 2018.