See Lando's Cape Room In New 'Solo' Featurette Touring The Millennium Falcon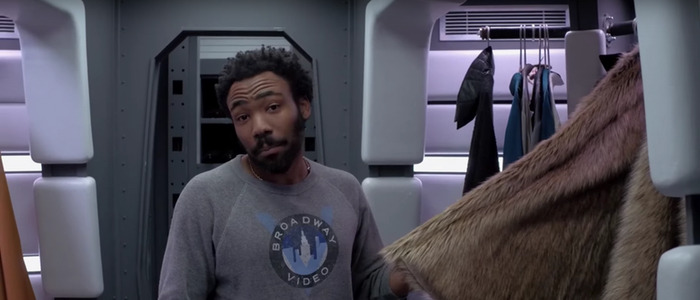 A new Solo featurette offers you the chance to take a very entertaining tour of the Millennium Falcon with the new Lando Calrissian himself, Donald Glover. Learn all about the many accoutrements of the ship, including a Wookiee Cookie Jar and, of course, a cape room.
I'm already sold on Solo: A Star Wars Story, but this video just made me more excited for the film. Below, take a fun journey through the Millennium Falcon with Donald Glover. It's entertaining as hell.
Solo Featurette
I love how everything on the Falcon looks shiny and new, compared to the grimy hunk of junk the ship became in future Star Wars films "Everything's patent leather!" Glover says before taking us from room to room. While watching the video, I took some screenshots highlighting my favorite features for you.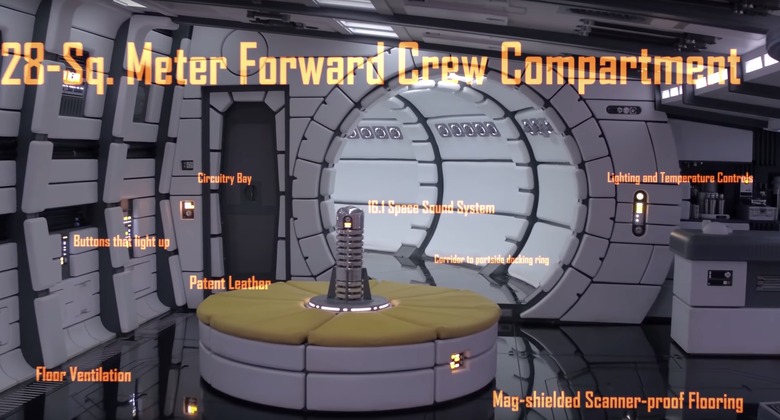 This crew compartment has several fun features, including a "16.1 Space Sound System". But my favorite element here has to be "Buttons that light up". Sounds very technical!
Galactic Empire Styles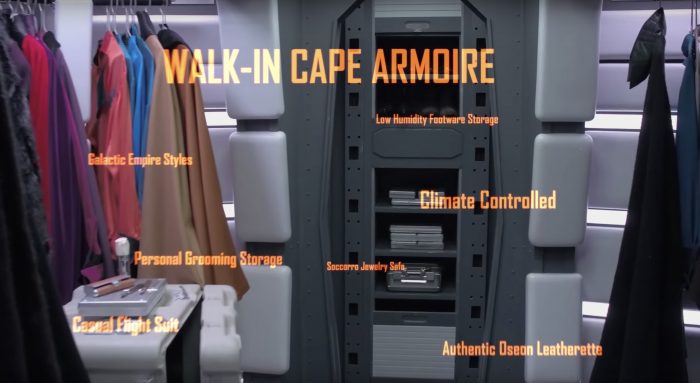 And last but certainly not least, here's the cape room, or "Walk-In Cape Armoire", as it's officially called. "I got every cape," Glover says, before listing some capes, including:
"Every Day Cape"
"Sister's Wedding Cape"
"Intergalactic President's Day Cape"
"In Case Someone Gets Cold Cape"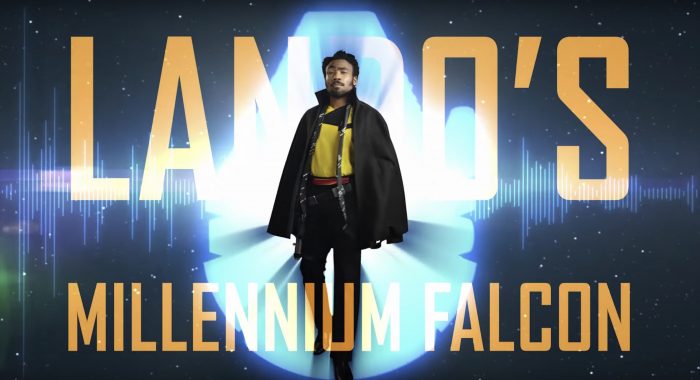 I really can't get over how much fun this video is. I almost wish Solo consisted solely of 2 hours of Donald Glover walking around and pointing out stuff to the audience. This video also continues to hammer home what we've all figured out by now: the movie may be called Solo, but it's Lando everyone really wants to see.
Solo: A Star Wars Story opens May 25, 2018.
Board the Millennium Falcon and journey to a galaxy far, far away in "Solo: A Star Wars Story," an all-new adventure with the most beloved scoundrel in the galaxy. Through a series of daring escapades deep within a dark and dangerous criminal underworld, Han Solo befriends his mighty future copilot Chewbacca and meets the notorious gambler Lando Calrissian, in a journey that will set the course of one of the Star Wars saga's most unlikely heroes.