The Problem With Apu Continues: 'The Simpsons' Creator Addresses Controversy; Adi Shankar Starts Writing Contest To Fix Character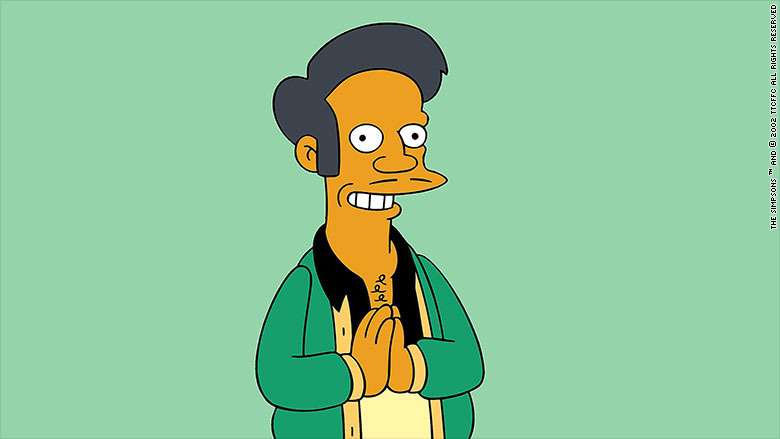 The problem with Apu doesn't seem like it will be solved any time soon. The Simpsons, which just hit a record-breaking 636 episodes, has been criticized for the Indian stereotypes pushed by its long-running character Apu, the Kwik-E-Mart owner voiced by Hank Azaria. And while the Fox sitcom dismissed the Apu controversy in a recent episode — igniting even more controversy — some people are willing to do something about it.
Castlevania producer Adi Shankar challenged writers to "fix" Apu, starting a contest to rewrite the character without mocking Indian stereotypes. But just as Shankar took us in a step in the right direction, The Simpsons creator Matt Groening took us one step back, doubling down on the show's polarizing response.
When controversies go viral on Twitter, we're always left with the resounding question: What are you going to do about it? Sometimes it's nothing, and the issue fades from memory. Sometimes a letter-writing campaign or petition is launched, and sent to a person in power who never reads it. In the case of Apu in The Simpsons, Indian-American producer and YouTube personality Adi Shankar decided to take things a step further.
On Monday, Shankar announced that he's running a screenwriting contest for people to rewrite Apu's character (via Mashable) on Coverfly, a screenwriting discovery platform. "No more arguing, I want solutions!" he wrote in the Facebook post announcing the contest.
Shankar then spoke about the competition in a video shared by Kanye West, asking people to submit 21-23 minute spec scripts about Apu's character.
"Apu has an accent that no Indian person on this planet has," Shankar says in the clip. "He has a last name that no Indian person on this planet has...This is not a stereotype. It is a mockery."
Shankar says that the contest was inspired by West asking Shankar what he would have liked to do about the situation. West also shared a link to the contest on his Twitter. Shankar continues:
"If a group of people are saying that hey, this made me feel uncomfortable, or hey, this made me feel hurt, instead of telling them hey, you're pretending to be hurt, talk to them. Figure out a solution together. We don't need to throw sticks and stones at each other, we just need to talk to one another and come together as humans."
Shankar promises that the winner's spec script would get financed and made into a short animated film, either by Fox or as a fan film. The contest, which has a deadline of June 30, 2018, is free to enter.
The Simpsons Creator Responds
Shankar's contest comes on the heels of The Simpsons creator Matt Groening's tone-deaf response to the Apu controversy. In an interview with USA Today about the show's recording-breaking run, Groening brushed off the criticisms, saying, "I think it's a time in our culture where people love to pretend they're offended." He doubled down on the show's toothless response, adding, "We'll let the show speak for itself."
"When we first started, we were part of the downfall of civilization. Bart said he was 'an underachiever and proud of it, man.' Simpsons T-shirts were banned in grade schools. I felt that the controversy at the beginning of the show was, again, people pretending to be offended by Bart's very mild sassiness. I knew it would blow over."
But the problem with Apu probably (and hopefully) won't blow over. Groening seems to be the only one on The Simpsons team that hasn't acknowledged the character's racist roots. Voice actor Hank Azaria humbly said that he would be willing to "step away" from voicing the character, while showrunner Al Jean tweeted that the show will "try to find an answer that is popular & more important right."
Meanwhile, you can always watch filmmaker Hari Kondabolu's smart and sharp documentary that started it all.