'The Party's Just Beginning' Review: Karen Gillan Makes A Dark, Dazzling Directorial Debut [Tribeca]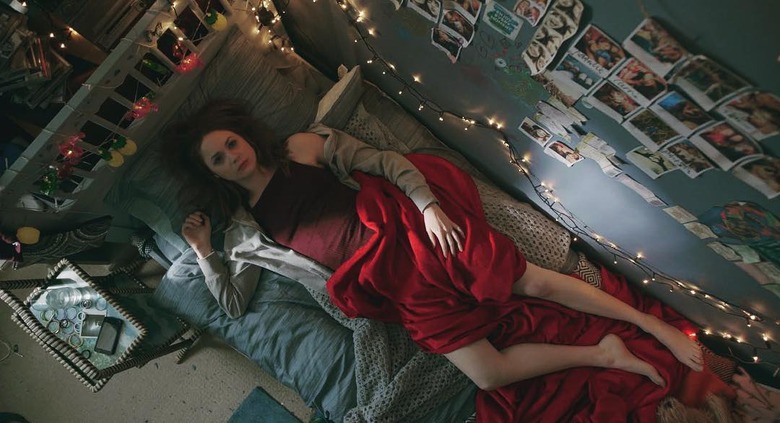 Karen Gillan is still a relatively unknown quantity in the U.S. After shooting to cult success in Doctor Who, Gillan muddled through a few obscure comedy roles before getting her big break as Nebula in Guardians of the Galaxy. But her prosthetic-covered, blue painted face has hindered her chance at widespread recognition, though her performance in Jumanji: Welcome to the Jungle may have finally earned her the attention she deserves — if people could see beyond the Rock's pecs.
She deserved to shoot to stardom with the unfortunately titled 2014 TV series Selfie, in which Gillan played a vain, selfish, and damaged heroine addicted to the instant gratification of social media. She gave a stunning performance in a show that was seen by too few and that was gone too soon. But Gillan's directorial debut, The Party's Just Beginning, takes that damaged, troubled character and runs with it — spawning an intriguing heroine for a dark, oddball film that deals with the lasting damages of grief.
The Party's Just Beginning follows the hard-drinking, foul-mouthed Liusaidh (Gillan), AKA Lucy, a young woman who is struggling to cope with her best friend's suicide. Living with her parents in a small town in the Scottish Highlands, there's not much for Lucy to do other than having drunken trysts with strangers at the local bar every night before walking to the bridge where her friend took his life a year earlier. She spends her days working tedious hours at the local cheese shop, talking with her vapid friend Donna (Rachel Jackson), and answering the multiple wrong numbers to her home's landline from people looking for the local help line. And Lucy seems content to spend her nights in a drunken haze, until one day she witnesses another man hang himself. Another wave of guilt builds up in Lucy after she realizes that the man was the person she had just thoughtlessly hung up on after he had called looking for the help line.
But this doesn't create a moment self-actualization for Lucy. The Party's Just Beginning isn't interested in a single, cinematic moment of catharsis, in which Lucy sees a man's death and suddenly decides to change her life for the better. No, the film's relationship with grief is much more complicated, and its depiction of the long, drawn-out process of coping never receives the nice book-end that you'd expect. It's a surprisingly profound portrait of grief stuck in a somewhat conventionally quirky British comedy.
The Party's Just Beginning verges on twee, with Lucy attempting to find redemption in anonymous conversations with a distressed old man who made another wrong call to her house. The two of them find fellow lonely souls in each other, and it kicks off a series of changes in her life. She starts to fall for an English tourist at the bar (a charming, self-deprecating Lee Pace) who insists on making something more out of their one-night stand, and she begins to open up about Alistair (Matthew Beard). The floodgates to her memories open, and her visions of Alistair — which initially began as morbid cutaways to his suicide — begin to expand to full flashbacks.
Gillan generously supplies the film with surreal, stylistic flourishes, seamlessly blending Lucy's visions with her troubled present-day life. Gillan proves that she has an eye for directing. She sometimes partakes in whimsical gimmicks like karaoke text appearing at the bottom of the screen, or peppering a scene with disembodied sounds of a rope swinging or a stair creaking, but they're not overbearing so much as they feel like a first-time director testing the limits of her abilities.
Gillan is magnetic as Lucy, a flawed but infinitely likable protagonist. Her guilt over her friend's death is palpable — not simply because it literally follows her around in the form of vision Alistair — but because Gillan's eyes tremble with a deep, unspoken pain. As the director and lead of The Party's Just Beginning, Gillan gets to flex her dramatic chops in a way that she never could as the comedy blockbuster star that she is known as today. Forgive me for going back to Selfie again, but that show was the first to prove that Gillan could balance physical comedy with a profoundly introspective performance — and she does it tenfold here.
However, the supporting characters apart from Lucy and Alistair, are a little flat. Pace infuses his love interest with a weary cynicism, and by virtue of Pace's charisma, becomes one of the most interesting subplots of the film. But Lucy's friend, parents, and local kooky neighbor never break out of the broad caricatures they're written as — apart from a few quiet, tender moments toward the end of the film.
But it is encouraging that Alistair, our token dead boy, is given such a fully fleshed out backstory and personality. Though we only see him through the lens of Lucy's visions and flashbacks, Beard lends Alistair a hopeful energy and zest for life, even as his life spirals into disarray as he struggles with his secret boyfriend and then with the realization that he is trans.
Despite The Party's Just Beginning's reckoning with grief and tragedy, the film is a zippy and brisk film that acts as a great showcase for Gillan's talent and her growing abilities as a director. But it's not afraid to go into some dark corners, slowing down monumentally as Lucy begins tries to find that emotional catharsis that she's looking for, only to set herself off on her worst and seediest booze-filled night yet. The title drop comes at a devastating moment for Lucy, when she's hit rock bottom and can no longer catch sight of the clarity that she desperately wants. In that moment, Gillan proves that she has a deep understanding of the power of words and a fearlessness with her characters.
The Party's Just Beginning is far from a vanity project for Gillan — it's a grand entrance for a promising, bold new director. It's a career that's just beginning for Gillan, and I can't wait to see what she has in store for us next.Rating: 8.5 out of 10