HBO Renews 'Westworld' For Season 3, And These Violent Delights Have No End In Sight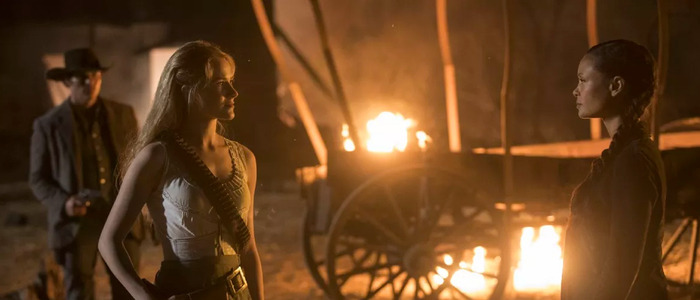 Saddle up, partners: these violent delights have no end in sight. HBO has officially given the green light to Westworld season 3, meaning we'll be seeing more of what creators/showrunners Jonathan Nolan and Lisa Joy have in store.
HBO just sent out a press release confirming that Westworld season 3 will definitely happen. Casey Bloys, the president of programming at HBO, had this to say:
"It's been an extraordinary pleasure to work with the exceptionally talented Jonathan Nolan and Lisa Joy, as well as their gifted cast and crew," noted Bloys. "From the inspired storytelling to the incredible visuals, we are so excited to see where the next chapter will take us."
Westworld, like Game of Thrones before it, has certainly become a "water cooler" show for the network, so it's not remotely surprising that they'd renew it for another season. The press release doesn't mention how many episodes season 3 will be (the first two seasons each run ten episodes), but if the most recent episode of season 2 is any indication, they may want to pump the brakes on those ten-episode orders and carve the amount back to something that aligns with how much story they have to tell. Last Sunday's episode, "Reunion," gave us a little bit more information about the way the park gained its investors in the early days, but so much of the dialogue felt like filler that I started to wonder if the show was even worth watching anymore.
I was a fan of the season 2 premiere episode, but maybe that was because there was a considerable amount of Thandie Newton, Jeffrey Wright, and Tessa Thompson in it, whereas all three of them were featured noticeably less in "Reunion." (Thompson's Delos executive Charlotte Hale didn't show up at all.) I appreciate the difficulty of Evan Rachel Wood's performance playing Dolores, but watching her lead a rampaging murder spree has already become stale, so here's hoping the showrunners have a significant change of pace coming up for her in season 2 and into the "valley beyond" (read: season 3 and longer).
Be sure to check out our Westworld season 2 reviews every Monday. You can read our take on the first episode of the season here, and "Reunion" here. Plus, don't forget to check out Decoding Westworld, a detailed podcast hosted by /Filmcast host David Chen and Vanity Fair writer Joanna Robinson that's dedicated to breaking down each episode.