'Ibiza' Trailer: Netflix's New Comedy About A Work Trip Gone Wild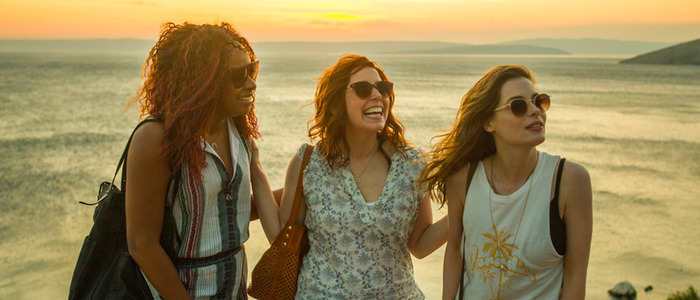 Netflix hasn't released a new original movie in a few seconds, so here's a trailer for Ibiza, a new comedy about a business trip gone wild. Gillian Jacobs, Vanessa Bayer, and Phoebe Robinson play three friends who head to Barcelona, and get wrapped-up in all sorts of wild and crazy shenanigans. Watch the Ibiza trailer below.
Everyone involved with this film is very funny and very talented, but the Ibiza trailer is not...great. I mean, it's not an outright disaster, and it seems to follow the general generic comedy trailer template of "everyone yells and falls down a lot." Still, it would be nice if there was just a little bit more here. Then again, perhaps they're saving all the good jokes for the film itself. Here's the trailer.
Ibiza Trailer
The story involves a trio of friends on a trip to Spain. There, Harper (Gillian Jacobs) falls for a hot DJ, and adventure follows. Again, the final film itself will likely be fine, but the only thing that made me laugh here was when Jacobs said the phrase "give-a-fuck-meter." But hey, there's enough talent involved with this film that I'll definitely give it a chance. And the people working on the movie certainly make it sound better than this trailer suggests.
"In a great rom-com, when they really work, it's because there are two romances going on," says Ibiza director Alex Richanbach. "There's one that is the friendship storyline and the other is the romance. And this had the opportunity to be both."
"[This] just felt like a rare opportunity: The three leads are women and they're friends and they don't turn on each other, they don't hate each other, and they're not competing over a guy," says star Gillian Jacobs. "I found it so refreshing."
Ibiza, starring Gillian Jacobs, Vanessa Bayer, Phoebe Robinson, Richard Madden, Augustus Prew, and Humphrey Ker will hit Netflix on May 25, 2018. Richanbach directs from a script from first-time screenwriter Lauryn Kahn.
Meet Harper: She's a single thirtysomething New Yorker with awesome friends she loves and a dead-end job she hates. So when her controlling, condescending, germophobic nightmare of a boss sends her on a business trip to Barcelona, Harper jumps at the chance to shake up her routine. Flanked by her two best pals, Harper lets loose in the land of Sangria, where a bit of surprising body graffiti leads to a flirty encounter with a famous DJ.